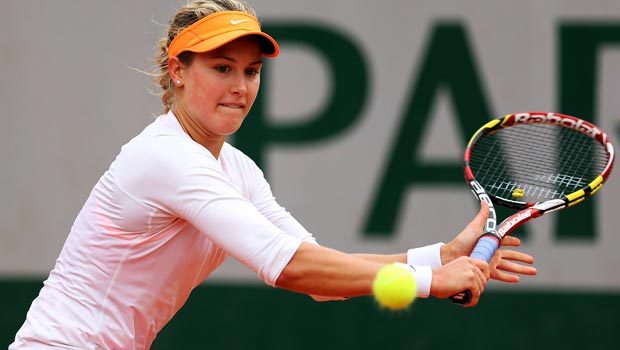 Canada's Eugenie Bouchard battled her way to victory over Carla Suarez Navarro to set up a French Open semi-final meeting with 1.87 outright favourite Maria Sharapova.
Canada has not had a pin-up tennis athlete since the days of Carling Bassett, but they have one now alright after Bouchard followed up her Australian Open semi-final by coming back from 5-2 down in the first set of Tuesday's quarter-final against her Spanish opponent to prevail
7-6 (4) 2-6 7-5 on the Paris clay.
Tall, blonde and leggy, she looked every inch a clone of her childhood idol Maria Sharapova as she scrapped for every point, sending the odd rocket or two back from the baseline in the process.
After demolishing the eighth seed Angelique Kerber in the fourth round, her performance on Tuesday against the 14th seed in Paris was not the biggest surprise, and now allows her to realize a dream of standing opposite Sharapova for a place in the French Open Final.
She has come a long way since losing to to the Russian in the second round 12 months ago, and is relishing the challenge ahead.
"At the end of the day, whether I win or lose, I want to at least leave it all there and try and at least battle," she said.
Asked about the prospect of again meeting her idol in combat she said:
"I respect her. But now, you know, we're in the semis of a grand slam, so I'm going to respect her but not put her too high on a pedestal and really just battle.
"She has very powerful shots. I'll be ready for that. Also, mentally she's strong. But I think that I have a good serve and good shots, as well."
Perhaps understandably it is Sharapova, who won the title in 2012, has been installed as the 1.30 favourite on the money line, with Bouchard available at 3.56.
Whoever comes out on top is highly likely to have to face the in-form Rumanian Simona Halep, the highest seed left in the tournament, providing the Romanian takes care of 2004 finalist Svetlana Kuznetsova.
Leave a comment