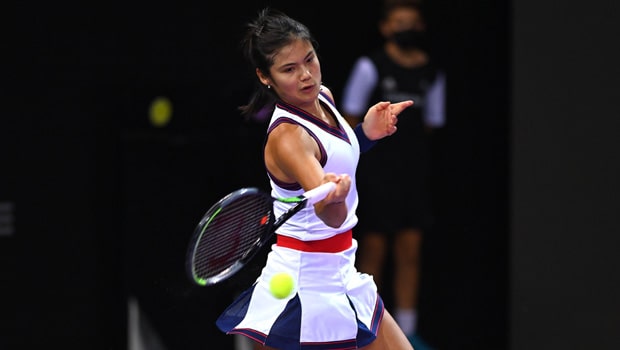 Former British no.1 Jo Durie reckons Emma Raducanu winning the US Open will inspire other British young players who would think, 'why can't I do it'. Raducanu has certainly motivated the next generation of youngsters coming through in the sport after her stunning win at Flushing Meadows in August.
Raducanu entered the qualifier as ranked number 150 in the WTA Rankings. The 18-year old qualified for the main draw after winning her three matches in the qualifiers. Raducanu then went all the way in the tournament as she came up with brilliant Tennis and defeated Leylah Fernandez in the final.
The youngster also didn't drop a single set throughout the US Open to create history. Furthermore, she also became the first qualifier to ever win the US Open.
Meanwhile, Raducanu had also won UK Pro League in 2020 before she went on to savor success in New York.
Durie said, "Emma Raducanu won the UK Pro League last year and there are some players who played her in this country not so long ago and beat her."
"Then a few months later, they see her winning a Grand Slam and they will think why can't I do something like that. It has given them extra motivation and confidence.
Durie added that Raducanu has had an impact on a lot of people in a positive way and those who didn't use to follow Tennis are building interest in the sport because of her inspiring win.
Durie said "we are all still talking about it (the US Open win). I have spoken to so many people who never really watched tennis and it just caught their imagination. "It really has had an impact on a lot of people. She is so engaging as a character, easy to watch as she is such a great player and it really has inspired a lot of people and given our game a massive boost.
"What I saw in Emma in recent years is someone who I knew was going to be very good, but to win a Grand Slam like that, no I didn't see that happening.
"This was someone who didn't play much at the start of this year, had not even played a match on the WTA Tour and then she played in the manner she did at Wimbledon before we all saw what happened at the US Open," Durie remarked.
"That was not on anyone's radar, but we can all see the talent there. She works hard, is eager to learn, has a great temperament, so let's celebrate her success. It's fantastic for Emma and everyone involved in British tennis."
However, after winning at US Open, Raducanu hasn't been at her best as she lost at the Indian Wells Masters in the first round and the Upper Austria Ladies Linz in the second round, and thus she would look to turn the tables.
Leave a comment