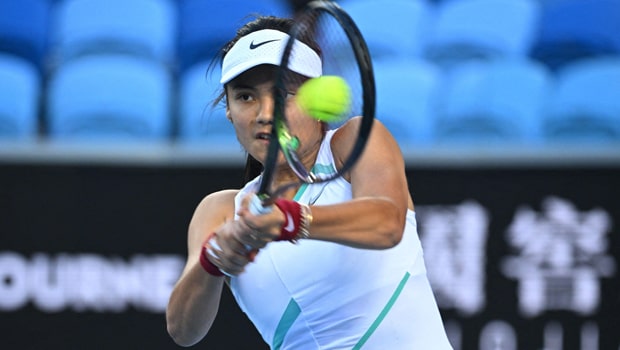 Reigning US Open champion Emma Raducanu has won 6-0 2-6 6-1 against Sloane Stephens to reach the second round of the Australian Open in her debut in the prestigious Grand Slam event. Raducanu shined, she played perfect tennis in the first set and ran into some trouble in the second one before making some adjustments in the third set to secure the win.
With her US Open victory last year Emma Raducanu became the first British women to win a singles Grand slam since Virginia Wade in 1977. The 19-year-old also became the first qualifier to win a Grand Slam singles title. She took the US Open with an ace to close out her 6-4 6-3 victory over Leylah Fernandez of Canada.
Emma Raducanu's mental strength is phenomenal. She was wise to prioritize her mental health after Wimbledon.  Strength and health are not the same. What a worthy champion!
Raducanu is the sports story of the year and one of the sports stories of the century. This is a truly remarkable achievement! What a match, what a performance and what a player she is. This was her US Open debut and she did not drop a set in 10 wins from 10 matches.
It was an amazing display of mental toughness by Emma Raducanu and a valuable lesson. Mental Toughness is when you decide to set a standard for how you want to work and live and you never settle for less than that standard – no matter how you feel. Mentally tough people like Raducanu live by standards and not feelings.
Setbacks are obviously a major part of every person's journey, and they were a part of Raducanu's journey. When most people get passed over for something – like being forced to qualify for the US Open – they quit. But Emma Raducanu didn't quit. She was able to lean on her mental toughness in those hard times. I am sure that there were moments when she felt bad but mental toughness puts standards and habits above feelings. To be the best of the best, people can't let their feelings dictate how they show up and perform. We have to embrace challenges and look at them as opportunities to learn, grow and prove ourselves.
Set a goal, set a standard (how you do what you say you are going to do), stay mentally tough, setbacks are a part of everyone's journey, and they will be a part of your journey too. If you are not facing setbacks, you might not be challenging yourself enough, and control your thoughts, you are responsible for how you think.
Emma Raducanu was an underdog who made it. She had a goal, she set standards for herself, she stayed mentally tough through the process by controlling her thoughts and living by the standards that she set through the good and the bad. This is a process that we all too can repeat.
Leave a comment