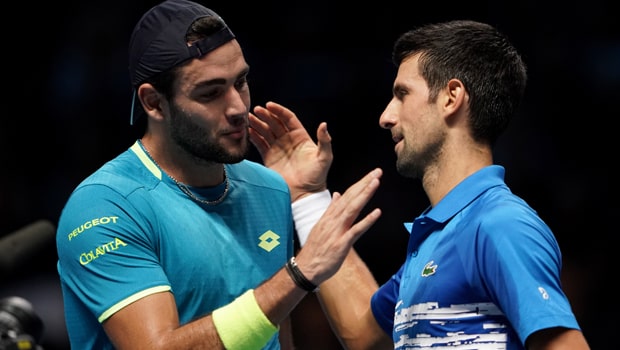 World number two, Novak Djokovic delivered an impressive win in the opening game of the ATP Finals, beating Matteo Berrettini 6-2 6-1.
Djokovic currently pursues his sixth ATP Finals title and has won the opening game 11 times out of the 12 times he has participated in it. He has made it obvious that he intends to overtake Rafael Nadal as world number one before the year runs out. Winning the title now would make Djokovic's wins equal with Federer.
As for Berrettini, his Sunday's appearance would be the first in the tour, and the first time he would be playing against Djokovic. Although he put up a good fight, he could not keep up with the Serb star. Djokovic later commented after the match that it might not have been easy for Berrettini to play well in his first ATP game.
Djokovic made a couple of errors in the first set, allowing for the 2 points by Berrettini. In the second set, Djokovic tried to keep a clean sheet but was later broken by Berrettini when he was already 4 points ahead. However, that did not stop Djokovic from winning not just the set but the whole game.
The ATP Finals features the best eight players of the year who play a round-robin group stage, playing each other, from where the top players can progress to other levels. Roger Federer plays Dominic Thiem, being in the same group as Djokovic and Berrettini. The other group includes Rafael Nadal, Stefanos Tsitsipas, Daniil Medvedev, and the defending champion, Alexander Zverev. The final game of the event comes up next Sunday.
Djokovic, who has had an impressive year, winning the Australian and Wimbledon Open. He is currently 440 points behind Nadal, and still has a total of 1500 points available to claim, putting him in clear shot of ending the year as world one. Djokovic would face the loser in the Federer v Thiem clash while Berrettini faces the winner later this week on Wednesday.
Leave a comment