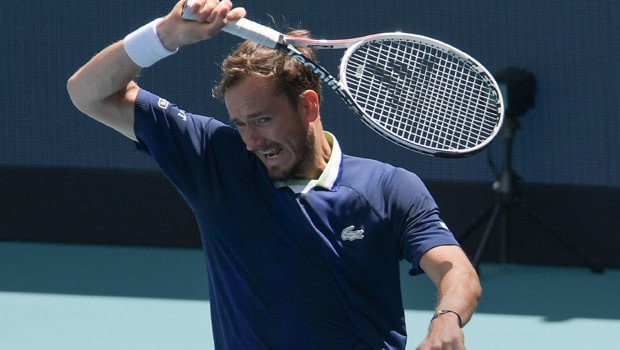 There is no doubt that World no.2 Daniil Medvedev has a solid game on hard courts but he needs to improve his Tennis on slow hard courts. Former seven-time slam champions Mats Wilander reckons the Russian needs to improve his game on clay and grass courts.
Medvedev won his first slam title by winning the 2021 US Open after beating Novak Djokovic and also made it to the final of the 2022 Australian Open. However, Medvedev's performance hasn't been up to the mark on clay and grass courts.
Medvedev also claimed the top position in the ATP rankings but soon dropped to second place. If the Russian beats Hubert Hurkacz in the quarterfinal of the ongoing Miami Open, he will once again take the numero uno spot in the rankings.
Meanwhile, Rafael Nadal is known for his solid clay-court game and has won 13 French Open titles to be christened the 'King of Clay'. Similarly, Roger Federer had a special affinity for grass courts and had won eight Wimbledon titles.
Furthermore, Novak Djokovic has won the Australian Open on nine occasions and he is known as the King of Melbourne Park. Thus, the Big Three has their own respective strengths but they savored success on other surfaces as well.
Ergo, it is imperative for Daniil Medvedev to improve his game on clay and grass court to reach the same level as the Big Three.
Speaking to Eurosport, Wilander said "Daniil Medvedev has achieved the two [main] goals in his tennis career. "He won a Grand Slam and he became World number one. So what is the third goal after that?" the Swedish great questioned. "The third goal goes back to what we did when we were young. The goal is to improve and Daniil Medvedev needs to improve his tennis.
"Not on fast hard courts, but he needs to improve his tennis on slow hard courts. He needs to improve it on the clay court. He needs to improve it on the grass court.
"So 75% of the year is not played on Daniil Medvedev's favorite surface. So he needs to turn that ratio around where 75% of the time he feels like he's playing in an environment that makes him play his best tennis," Wilander outlined.
"That's not the case with Daniil Medvedev… But because he's won a Grand Slam because he has become the World number one, he's achieved that. "Forget it now, Daniil, it's time to go back to work and become a better tennis player."
Medvedev has a potent serve under his repertoire and he will look to keep improving his game.
Leave a comment