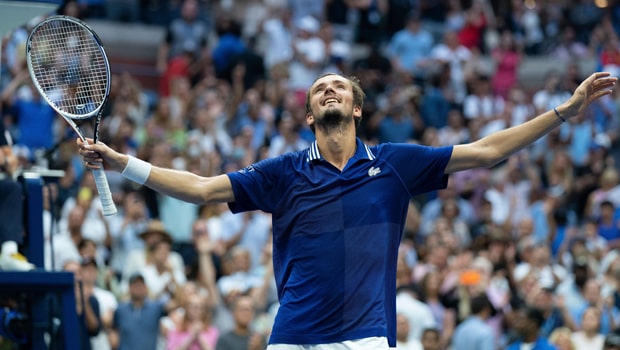 2020 US Open champion Dominic Thiem reckons Daniil Medvedev completely deserved to win first Grand slam title after the Russian defeated Novak Djokovic in straight sets by 6-4, 6-4, 6-4 at the Arthur Ashe Stadium in New York on Sunday.
Medvedev was in sublime form throughout the US Open as he dropped a single set on his way to first big title. The World no.2 was at his absolute best as he served at the top of his game and won 80% of his points on the first serve.
The Russian was in good form before the US Open as he had won the National Bank Open in Toronto. Medvedev's forte is hard court and he ended Djokovic's incredible run with a stunning performance in the final. Djokovic was chasing history as he was one win away from the Calendar slam but it wasn't to be.
After Medvedev won his first major title, he joined Dominic Thiem as the only two men to have won a Grand slam after being born in the 90s.
"Medvedev didn't care about all that," said the 2020 US Open champion. "He played sensationally from the beginning to the end, didn't do anything stupid the whole match and on top of that he shot winners right and left from Djokovic.
"In addition, he served really well against the best return player. He completely deserved to win it. "With the early break in the first set, he immediately got the momentum on his side and then played at a consistently really, really high level.
On the other hand, Novak Djokovic was under pressure in the final. In fact, Djokovic's emotions were palpable after he was dominated by Medvedev in the summit clash.
"On the other hand, you could see the tension Novak Djokovic was under – especially at the last exchange, where he was in tears," said the Austrian. "We saw what was going on inside him, also what he had accumulated in the last weeks and months.
"That is simply inhuman. I don't know him that well, but I think he has a really good heart and has deserved the love of the whole audience here. "We don't need to talk about his sporting achievements anyway."
Leave a comment