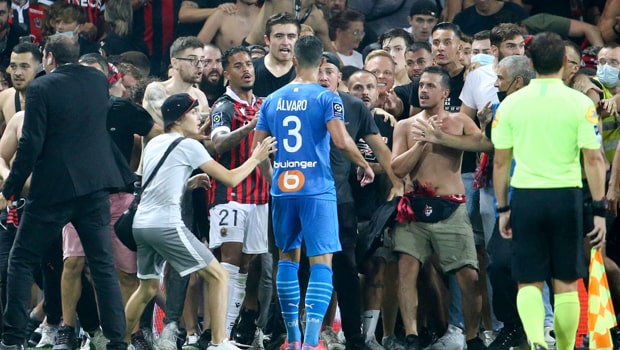 The abandoned Ligue 1 match between OGC Nice and Olympique Marseille has been rescheduled for October 27.
The match was declared abandoned due to crowd trouble.
They were also punishment for each side as Nice got docked two points, with one suspended while some staff of Marseille was handed game bans. Those affected include Marseille defender Alvaro Gonzalez and physio Pablo Fernandez.
The game was initially halted on August 22 after fans threw projectiles and invaded the pitch. It was later declared abandoned.
This decision was announced by France's Ligue 1 governing body French Professional League (LFP) on Monday. According to the verdict from the football governing body, the match will be played at a neutral location which will be determined at a later date.
There were fifteen minutes left to the end of the match before the brawl ensued after home fans threw projectiles and invaded the pitch.
As part of the punishment, LFP ordered Nice to play their next home game behind closed doors, pending the results of the probe.
Nice was 4th in the standings, but a point deduction see them drop to fifth place, resulting in one point behind Marseille.
They have so far gathered six points from three games after winning their games last weekend to move third and fourth.
Fernandez, a Marseille physio is now suspended till June for his involvement in the scuffle, while  Gonzalez was handed a two-game suspension.
Dimitri Payet got lucky as he escaped with a one-game suspended sentence. The playmaker got hit by a bottle during the game and fell to the ground.
Retaliating, he got back up and threw it at home fans, which made a significant number of Nice supporters rush the pitch.
The situation led to the exchange of blows between players and staff members as security officials and riot police struggled to regain control.
​Marseille refused to come back onto the pitch after normalcy returned with Nice leading 1-0.
Leave a comment