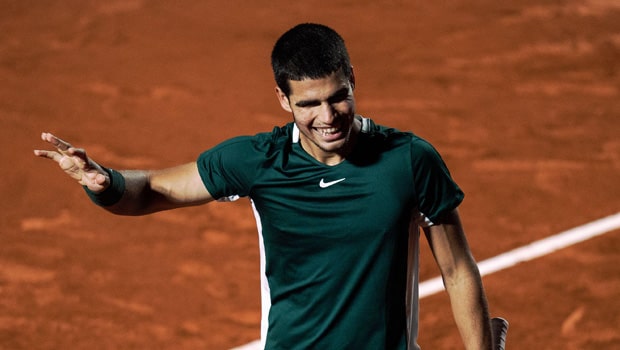 Young Tennis sensation Carlos Alcaraz continued his dream form as he defeated Germany's Alexander Zverev by 6-3, 6-1 to win his second ATP Masters 1000 title in the ongoing season. The Spaniard has become the second youngest to win two ATP Masters 1000 titles since Rafael Nadal achieved the same milestone after winning in Rome and Madrid when he was only 18.
Alcaraz dominated the contest the World no.3 German as he brought his best to the court. In fact, earlier the youngster had defeated his idol, Rafael Nadal, in the quarterfinals in three sets. Subsequently, he also knocked out the World no. 1 Novak Djokovic in the semifinal clash to book his final berth.
Thus, he became the first player to beat both Novak Djokovic and Rafael Nadal at the same event on clay. Earlier in 2007, David Nalbandian had beaten Rafael Nadal, Roger Federer, and Novak Djokovic in Madrid.
The World no. 7 has been in sensational form and there is no doubt he is one of the favorites for the French Open. The youngster has shown the skills to go a long way in his career and he is turning the heads with his impressive performances.
Zverev congratulated Alcaraz for his fine show in the final as the youngster finished the match in 62 minutes.
"I want to congratulate Carlitos. Right now you are the best player in the world," Zverev said during the trophy ceremony. "It is great for tennis that we have such a new superstar that is going to win so many Grand Slams, that is going to be World No. 1 and I think is going to win this tournament many more times."
On the other hand, Alcaraz feels he has no limit and he is trying to give his best in every tournament he is playing.
When asked if there is a limit to what he can achieve, Alcaraz answered: "I don't think so. "I'm just trying to put out a good game in every tournament and stay up there with the best in the world."
Alcaraz will face Cristian Garin in the first round of the Italian Open.
Leave a comment