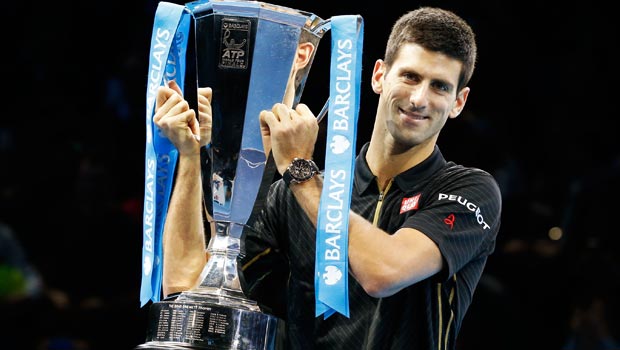 Novak Djokovic thinks he is at the pinnacle of his career after ending the year at number one in the world.
The Serbian was handed the ATP World Tour title when Roger Federer was forced to withdraw from Sunday's final in London because of a back problem.
The 33-year-old Swiss star, who is set to play in the Davis Cup final later this week, opted to pull out of the match after winning a lengthy semi-final against Stanislas Wawrinka on Saturday evening which he eventually edged 4-6 7-5 7-6.
"You cannot blame Roger. I'm sure he would play the World Tour finals if he could," said Djokovic.
"But right now I'm at the pinnacle in my career."
Djokovic ends the year as world number one for the third time in four years and has seven Grand Slam titles to his name following his success at Wimbledon in July.
It was the 27-year-old's third successive ATP World Tour triumph and the fourth of his career as he also claimed victory in 2008.
"I'm not one of those players that celebrates these particular wins, but I have to reflect on the whole season," added Djokovic.
"This trophy is definitely the crown for all the achievements that I had this year."
Djokovic won 61 of his 69 matches in 2014 and reached 11 finals, triumphing in seven of them, but is now looking forward to a period of rest with his wife, Jelena, and recently-born son, Stefan.
Meanwhile, Federer is set to team up with Wawrinka for the Davis Cup final showdown with France.
Leave a comment