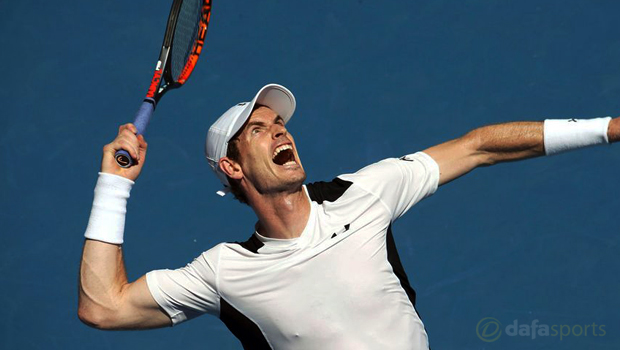 Andy Murray has revealed that he is hoping to enhance his reputation in 2016 by winning the remaining three Grand Slams, the Davis Cup and an Olympic gold medal.
Murray has recently returned to the practice courts this week following a short period off to welcome the birth of his first child after the Australian Open.
The Scot was hoping to add the Australian Grand Slam to his CV but fell at the final hurdle as rival Novak Djokovic eased to victory in Melbourne in January.
However, Murray has not allowed that defeat to play on his mind or dampen his spirits as he targets every other major title this season.
The 28-year-old currently boasts two major titles having won Wimbledon and the US Open, while also claiming gold at the London 2012 Olympics and the Davis Cup with Great Britain in 2015.
Great Britain are set to take on Japan in March before preparing for the clay period of the term and a trip to the French Open.
The Brit will then switch focus to the grass courts for an attempt at Wimbledon ahead of travelling to Rio for the Olympics over the summer, and then ending the Grand Slams at the US Open.
He admitted it will prove to be a testing year but hopes his body can keep up as he looks to kick on and climb up to number one in the world rankings.
Murray said: "It's 100% Olympics and I want to try to play Davis Cup too. But it depends on what happens this week against Japan, because that could change things a lot.
"If we don't win, I could take five or six days off after Wimbledon (when Davis-Cup quarter final is scheduled) and get myself ready for the hardcourt swing that leads to the Olympics in August, followed by the US Open. I'd love to win the Olympics again, but I'd also love to win Wimbledon again – in fact, all of the Slams and the Davis Cup. But it would be difficult to pick one event over another.
"I'd like to do well in all of them. I think it's possible, but you need to be pretty smart with your schedule."
Leave a comment