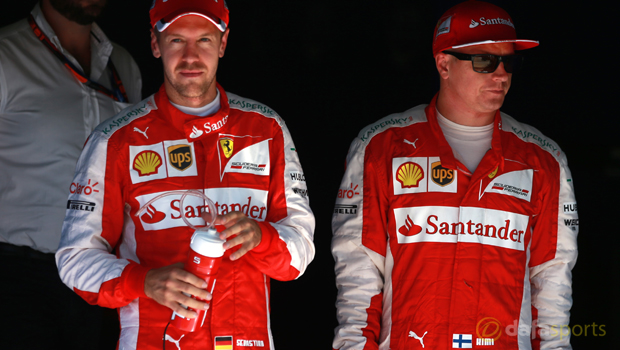 Sebastian Vettel has predicted that team mate Kimi Raikkonen will be able to close the gap on him this season after enduring a lot of bad luck in 2015.
Ferrari were the closest challengers to Constructors' Championship winners Mercedes last season, but still ended up 275 points adrift in the final standings.
Mercedes duo Lewis Hamilton and Nico Rosberg finished the campaign first and second in the Drivers' Championship, with Vettel and Raikkonen in third and fourth respectively.
Vettel was some 103 points behind world champion Hamilton, while Raikkonen was 231 points off the pace of the Brit.
The German claimed three race victories over the course of 2015 but his team mate failed to pick up a single win, due in part to some bad luck.
Ferrari's vehicle on the whole was pretty strong but Raikkonen appeared to suffer more technical issues than his team mate.
Vettel believes that Raikkonen enjoyed a strong end to the season and has backed him to pick up from where he left off when the new term gets going at the Australian Grand Prix.
He said: "He managed to push fairly well.
"He was a bit unlucky at the beginning of last year. It is one of these things, people don't have a long memory and tend to forget and just look at the numbers. I think it was fairly close and I am sure it will be fairly close this year."
Leave a comment