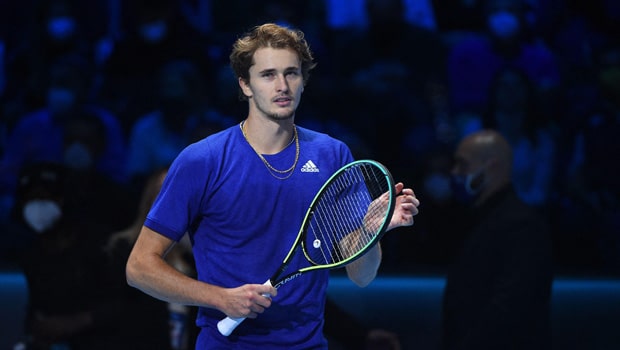 Germany's Tennis sensation Alexander Zverev defeated the World no.1 Novak Djokovic by 7-6, 4-6, 6-3 in the semifinal of the Nitto ATP finals in Turin on Saturday. Zverev came up with a sensational performance against an in-form Djokovic and defeated the Serbian for the second time in the year. The youngster had beaten Djokovic in the semifinal of the Tokyo Olympics en route to his Gold Medal.
In fact, Zverev went on to save a set point in the first set before sealing it in the tiebreaker. The German battled hard for almost two and a half hours to go past Djokovic.
Zverev was able to bring his best against Djokovic as he hit 35 winners and this was his fourth win against the Serbian. The German admitted that he has benefited by playing against Djokovic throughout the year.
"Every time we play it takes hours," Zverev said in his on-court interview. "I have not spent more time on court with anybody other than him this year. I am happy with the win and happy to be in the final here and to give myself the best chance for tomorrow."
Meanwhile, Zverev will now face Daniil Medvedev in the final. Medvedev holds a 6-5 advantage over Zverev in the head-to-head count. In fact, both of these had met in the 2018 Nitto ATP finals in which the German had come out on top.
"I lost 8/6 in the third in the group stage, so I am just looking forward to the match as I think it will be a great one," Zverev said. "There is only the best here, so it takes a lot to win this tournament.
"I am looking forward to having another chance and we are in the final and I am happy to be in the final. He is one of the best players in the world right now, so It is going to be a difficult match no matter what."
Both Medvedev and Zverev will look to bring their best in the Nitto ATP finals, which will be played on Sunday.
Leave a comment