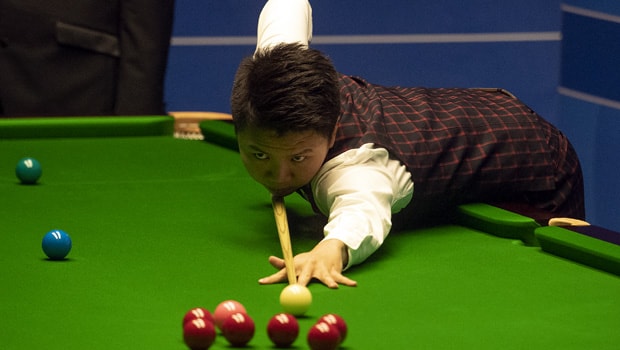 Zhou Yuelong defeated Peter Lines in the first round of the 2020 Scottish Open
Zhou Yuelong recorded the second 147 of his professional career as he eliminated Peter Lines 4-1 on Monday afternoon at the Marshall Arena.
The 22-year-old Chinese and former UK Championship semi-finalist displayed the magnificent maximum break in the third frame to lead by 2-1 in his opening match. This victory over Peter Lines was the 164th maximum in snooker history.
The Chinese snooker player continued his great form in the game, as he won the next two frames to seal his place in the second round.
The "Chengdu Chalktime" is currently ranked 20th in the world after a successful snooker season this year. He emerged as the runner-up in the 2020 European Masters and the 2020 Snooker Shoot Out.
In other games at the 2020 Scottish Open, Mark Selby had an easy win against Yuan Sijun, winning the encounter by 4-1.
However, it was Yuan who got the highest break of the match, a 122 in the fourth frame.
David Gilbert looked unconvincing throughout his match and was knocked out by Matthew Stevens 4-3 after a gruelling encounter.
The was a huge upset in the 2020 Scottish Open as Zak Surety, ranked 116 in the world, knocked out Stephen Maguire, ranked 9 in the world, 4-1.
Yan Bingtao also got himself eliminated at the first hurdle. He lost 4-1 to English Open quarter-finalist Jak Jones, who made a century (109) and two half centuries as he cruised to a shock victory.
Several matches were delayed when results of the latest round of coronavirus tests were being held up. Jimmy White and Mark Allen were initially amongst those waiting for the approval to play.
However, after being cleared to play Mark Allen defeated Jimmy White 4-1, and Ding Junhui defeated Mark Davis 4-0.
Leave a comment