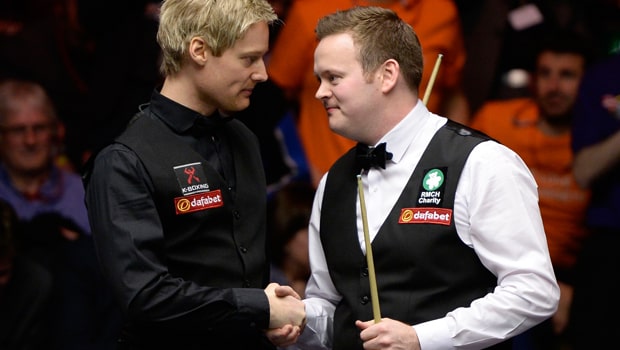 Neil Robertson, Shaun Murphy and Mark Williams were amongst those to impress on the first day of the English Open at the K2 in Crawley.
The trio formed a five-star collection of world champions to make winning starts in the first Home Nations tournament, with Mark Selby and Ronnie O'Sullivan also victorious.
Australia's Roberson, world champ in 2010, has already enjoyed a ranking tournament success this season at the Riga Masters and made breaks of 100 and 112 in a 4-2 win over Ross Muir.
2005 Crucible king Murphy was more workmanlike, with a highest break of 66, in his 4-1 win against Mike Dunn.
Williams, the reigning world champion having rolled back the years to defeat John Higgins in the final in Sheffield earlier this year and scale the summit for the first time since 2003, overcame fellow Welshman Dominic Dale 4-1, with breaks of 116, 54 and 109 along the way.
Williams was ice-cool in taking the final frame he needed on a re-spotted black, rolling the long pot in nonchalantly and heading for the handshake long before the black ball had reached its intended target.
While O'Sullivan had some harsh words to say about the venue in Crawley, Williams was quick to defend the K2, insisting the venue was 'one of the better ones' on the circuit.
"It's up to him [O'Sullivan] what he wants to say but I found it fine…maybe he was on a different table to me, I'm not sure," said Williams when quizzed about the Rocket's comments.
"We play in leisure centres all over the place and this is one of the better ones. It's massive, it's got everything here.
"It looks good… it's just what we normally play in is leisure centres."
Williams is 9.50 to win the English Open this week, with O'Sullivan favourite to defend his title at 3.80 despite his suggestion the venue would 'demotivate' players.
Leave a comment