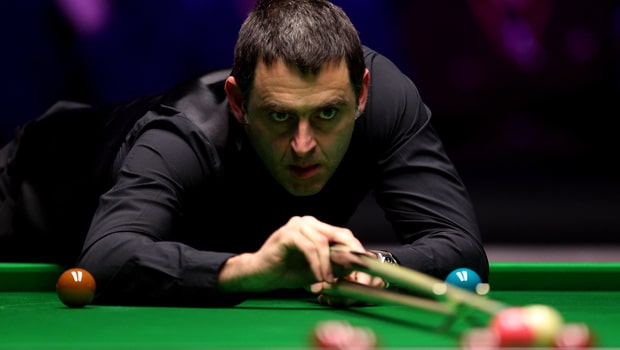 It's day 2 of the Northern Ireland Open and Ronnie O'clock as Ronnie O'Sullivan battles Lines. Ronnie started on the front foot, snatching the first frame with a 58-44. Lines responded beautifully well, leveling matters in the second frame after treating Ronnie to a 61-51.
Then the unthinkable happened. World number 80, Lines went 2-1 up against O'Sullivan, and with the game being a best-of-seven snooker, Lines was just two frames away from victory.
It was far from plain sailing for the five-time world champion as he went down 2-1 to his opponent after a tight game.
O'Sullivan was inches away from edging it, but the white ball caught the middle pocket after he potted the white. This invariably left him with just one point up and just the black to pot. Lines came out tops in that frame with a 60-54.
The legendary professional who, in his pre-match interview, said he prefers to please his fans than win titles, was not ready to gift his slot in the next round to Lines. He grabbed the game by the scruff of its neck and knocked in an 87 to tie things up.
Lines had chances to take the lead once more, but it was Ronnie who hit the jackpot. O'Sullivan couldn't quite close the fifth frame at his second time of asking, but he takes advantage of a gaffe by Lines to move up 3-2.
Lines was disappointed at himself for not converting the half-chance, shaking his head disappointedly as they headed for the break.
After the break, O'Sullivan threatened to win the next frame, and he did so beautifully well. He claimed the sixth frame with a 69-8 in spite of the shaky start he had.
Elsewhere, Judd Trump dispatched a spirited Cahill, though, not without a fight.
Centuries of 106, 122 and 111 seemed enough to take all three frames and inadvertently end any discussions of a possible comeback. However, Cahill clawed his way back into the game, leveling matters at 3-3.
A relaxed Trump fresh from a Champion of Champions final defeat to Neil Robertson then turned the game on its head, ensuring a triumph in the final frame with a break of 75.
Judd Trump is favoured at 1.11 to eliminate An Da Zhang, while Zhang is given 6.26 odds to claim a victory.
Leave a comment