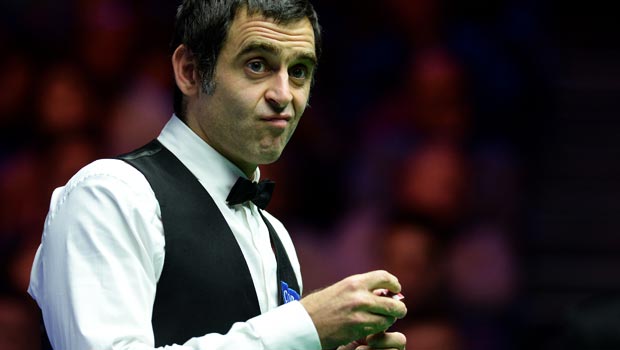 Ronnie O'Sullivan says he feels "like a baby learning to walk" at the UK Snooker Championship where he is playing through the pain of a broken ankle.
'The Rocket', chasing his fifth UK Crown, threatened to pull out after breaking his ankle while jogging on the eve of the tournament.
The 38-year-old decided to play on and beat amateur Daniel Wells in the first round before a 6-3 triumph over Peter Lines on Saturday.
Despite booking his place in the third round of the tournament, O'Sullivan admits he feels far from comfortable because of his injury.
"I have got my foot broken so I am thinking maybe this is a good time to lose but your instinct kicks in and you battle on," he told reporters.
"I feel like a baby that is trying to learn to walk again because the muscles around it are not confident and I am not sure that the foot is going to do what I want it to do.
"I am not getting any rhythm or any tempo, and you know I am a busy player and I feel like I am very un-busy so I don't have my natural flow."
The five-time world champion is working on recovering from his injury with Sheffield United Football Club ahead of his third-round match against Ben Woolaston.
O'Sullivan admits he may find it tough against the Leicester potter after an early scare at the International Championship in November.
"Ben is a good player; he should have beat me in China where he was 4-1 up," he said.
"He pots very well and he will probably be favourite for that match considering my health but I will not give up, I will fight and I am pleased to still be in the tournament."
O'Sullivan is 3.30 to win the UK Championship.
Leave a comment