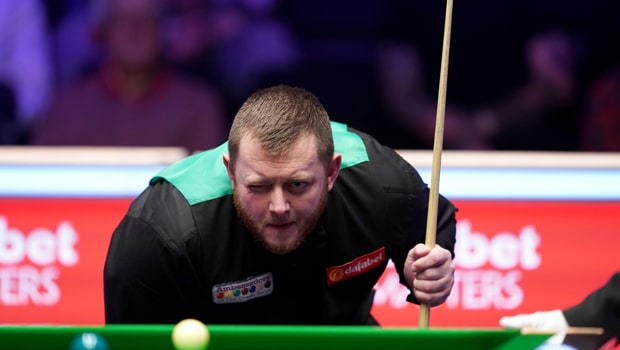 Mark Allen booked a spot in the last-8 of the Players Championship after doubling Thepchaiya Un-Nooh frame wins, posting a 6-3 scorecard in the process.
After the Pistol notched three century breaks of 129, 132 and 123, you get the feeling that it was going to be an outstanding win for him. Perhaps, the most important thing about this win was that Allen was unwell coming into this fixture.
So sick was Allen that after the game, he admitted he was going to fall over if he had not used the table. "I had to use the table, or else I would have fallen over," he said.
Allen looked obviously ill and played the game using complete guesswork and muscle-memory. Yet, the brilliant cueist could manage three fantastic centuries against Thepchaiya Un-Nooh. It is hoped that Allen could get well in time to battle Shaun Murphy next after the Welsh Open champion recorded a slim 6-5 win over David Gilbert.
Current Welsh Open winner Shaun Murphy was scheduled to take on David Gilbert for a place in the quarter-finals. David Gilbert is arguably the best player to have never won a ranking title, and this was not going to be a win either.
Gilbert crashed out of the tournament after failing to stage a comeback against Murphy. Gilbert played second fiddle to Murphy for most parts of the game and looked like he was headed for the exit even from the very start of the encounter. Murphy took charge early on as you would expect, racing to a 3-0 lead.
Gilbert took the following frame before Murphy restored his three-frame win with the scores at 4-1. At this point, only very little would have considered a possible comeback from the world number 11. However, the Englishman took the game by the scruff of its neck, winning three frames on the trot to tie the encounter at 4-4.
Murphy, who looked to recover from his slumber, won the 9th frame before Gilbert levelled matters once again to make it 5-5. In a game of 11 frames, the game had to be decided by a deciding frame, and it was Murphy who came out tops there. The world number 9 is now set to take on Allen in what is expected to be a tense and tough affair.
Leave a comment