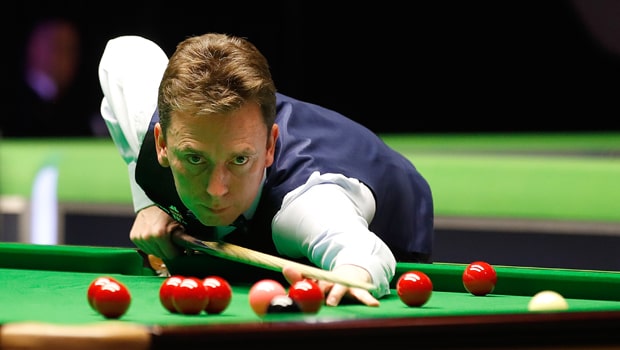 Ken Doherty admitted he'll have to reschedule his plans after defeating world champion Mark Williams 6-4 at the China Open.
Doherty had planned to fly home on Wednesday, but the 1997 world champion engineered victory in a high-quality shootout against the Welshman.
Doherty, who turns 50 later this year, compiled breaks of 76, 62, 115 and 90 to land his six frames, while his opponents had efforts of 91, 53, 75 and 71 in defeat.
Williams will now go into his Crucible defence later this month having not reached a ranking event semi-final since winning the Yushan World Open in August. For Doherty, it was a pleasant surprise to play so well.
"To beat the current World Champion is a great win for me. I didn't expect to play that well," said the Dubliner. "I was delighted by the way I finished off because I could have twitched in the last frame.
I had booked my flight home tomorrow as a safety net so I'm going to make alternative plans now!"
Doherty will be heading for the World Championship qualifiers in Sheffield upon his return from the Far East and defeating Williams will give him some extra confidence that he can grab a chance to say farewell to the Crucible Theatre.
"Before I retire I would love to play at the Crucible one more time, to say thanks for the memories and this is my last time," he added.
"It will be very tough to come through the qualifiers, but after today I'll go there with more confidence and a spring in my step. I don't think many players would want to draw me there."
Doherty,meanwhile, is 151.00 to win the China Open and will now face Ricky Walden in the last 32.
Leave a comment