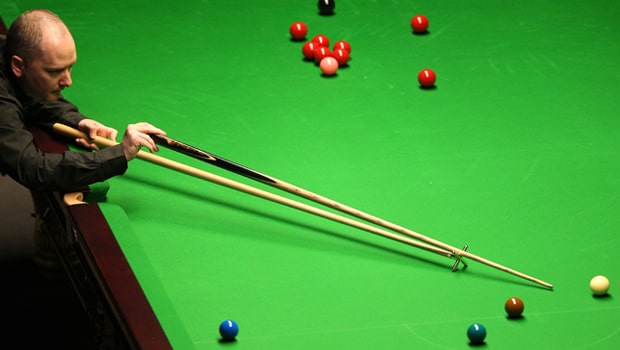 Compatriots Graeme Dott and John Higgins battled it out in Group 7 of the Championship League.
Ironically, it was the lower ranked Dott who came out tops. The world number 21 raced to a 2-0 lead before world number 5 reeled back impressive breaks to win the following two frames and level matters in the process. In the fifth frame, Dott edged past his opponent, posting a 3-2 score line in the process.
Elsewhere, Ricky Walden, world number 37 welcomed world number 3, Mark Williams to the table for a fierce encounter. As expected, it was Williams who emerged victorious. The world number 3 trounced and humiliated Walden with three frame wins and no reply. 3-0 it was in favor of Williams. Williams now tops the Group 7 of the Championship league having won 3 and lost only 1 of his four games so far.
Lyu Haotian also locked horns with Robert Milkins. Milkins had the quickest start to the game, winning he first frame. However, Haotian soon levelled matters to make it all fair and square. Milkins followed with another win to restore his lead. He then rounded it up perfectly with a second frame win on the bounce, posting a 3-1 scorecard in the process.
Earlier in the day, Milkins had Ricky Walden to contend with. For a game between two players rated only 10 places away from each other, it was expected to be a tough encounter.
However, Walden made lightwork of the world number 47 in a game of five frames. Still, it was Milkin who had the quickest start to the game, racing to a 1-0 lead. His better ranked opponent though unwilling to take chances, registered three straight frame wins to make it 3-1.
Also, Haotian was matched with David Gilbert earlier on and just like his game against Milkins, he succumbed to a heavy defeat. The world number 29 seems to be the weakest in this group as he takes a latching from every member of the group.
This time, he was Gilbert's patient. Gilbert came out tops in the first two frames before Haotian could cook up a reply in the third frame. However, that resurgence was too late for a comeback as Gilbert completed a 3-1 victory.
Leave a comment