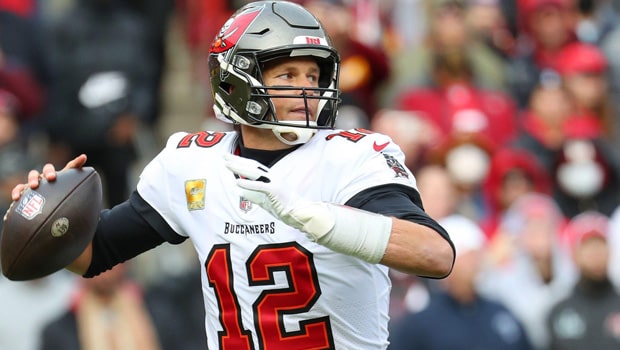 The Tampa Bay Buccaneers improved to 7-3 on the season as they dominated the New York Giants, 30-10, at home. Tampa Bay raced out to an early lead, scoring within five minutes of kickoff, and never looked back.
"We're at a decent point but we can play a lot better than we've played," Tampa Bay QB Tom Brady said. "Hoping our best football is ahead of us."
Brady finished with two touchdowns and 307 yards as he helped avoid a three-game losing streak for the Buccaneers.
New York, now at 3-7 on the season, looked to stay competitive in the first half, but completed unraveled in the third quarter.
"We have to do a better job of putting our players in position to make plays," Joe Judge, NY Giants head coach, said. "We have to make sure we sit down (Tuesday) as a coaching staff and understand how we're going to play this game and give our players a chance to make plays."
Giants QB Daniel Jones finished with 167 yards, 1 TD and 2 INTs.
Jones was pressured on 48 percent of his dropbacks, according to ESPN Stats & Info, the highest this season. Brady was pressured on 17 percent of his dropbacks.
What stood out was the difference in production – and energy – from the first to second half. As critics pointed out, that comes down to coaching more than anything else. The game was tied at 10 points apiece at one point in the second quarter before Tampa Bay scored 20 answered.
"Players have to execute," Judge added. "That is their job, right? It is our job to teach them. It is their job to go out and execute. However, we've got to make sure we put them in position to have success. That has to be consistent, by the way. So, you can go ahead and write that down. I'm not going to debate that."
Jones is now 0-8 in his career in primetime games.
The Giants did get RB Saquon Barkley back in the lineup. It was his first game since Week 5 when he suffered an ankle injury vs the Dallas Cowboys. He finished with 25 rushing yards on 6 carries.
Tampa Bay hits the road the next two weeks, with their next match in Indianapolis vs the Colts. New York heads back home to MetLife Stadium for a matchup with the Philadelphia Eagles.
Leave a comment