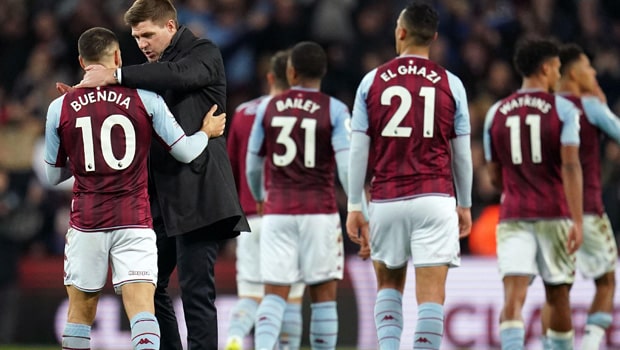 Steven Gerrard won his first Premier League match in charge of Aston Villa as two goals from Ollie Watkins and Tyrone Mings sealed the 2-0 win.
"Everything I dreamt of leading into this game, the players have produced," Gerrard said immediately after the win. "Feels great to get my first win, players deserve all the credit."
The win snapped a five-game losing streak for Villa.
Gerrard's last Premier League appearance came in 2015, as a player. Six years later, he's back as a manager.
The match was goalless through the 84th minute before Villa broke out with two goals in the final five minutes or so. Watkins cut in from the left for an excellent finish before Mings found the back of the net a few minutes later.
"That's my medicine, I love winning, I love competing, I love seeing players happy, smiling, feeling good about themselves," Gerrard said. "We were a bit tense at times today, it wasn't all perfect, it was understandable that the players and crowd were a bit nervous."
Gerrard shook things up right away with Watkins moving to a central position while Leon Bailey was brought on for Danny Ings.
"We wanted to pack the midfield, and when our moments comes, we wanted to go and hit the opposition," Gerrard said.
Gerrard becomes just the third Villa manager to win their first Premier League match for the club, joining the likes of John Gregory and Gerard Houllier.
Since last season, Watkins has scored more goals for Villa — 17 — than any other player. Harry Kane (15) is the only English player with more Premier League goals than Watkins (11) in 2021.
Brighton are now without a win in their last seven league matches.
"We can take positives from the performance up to 83 minutes, I thought we were the better team and played the role well here," Brighton manager Graham Potter said. "We gave ourselves a chance to win, but ultimately we didn't score. I thought we created the better chances in a game of relatively few chances. They were hard to play against, hard to beat, and kept working, as you'd expect on the first day with a new manager. I think we created some decent chances."
Brighton won the possession battle 63-37, but had just two shots on target compared to five for Villa.
The win puts Villa up to 15th place in the standings, with Brighton now in eighth.
Villa are back in action next week on the road vs Crystal Palace. Brighton host Leeds United.
Leave a comment