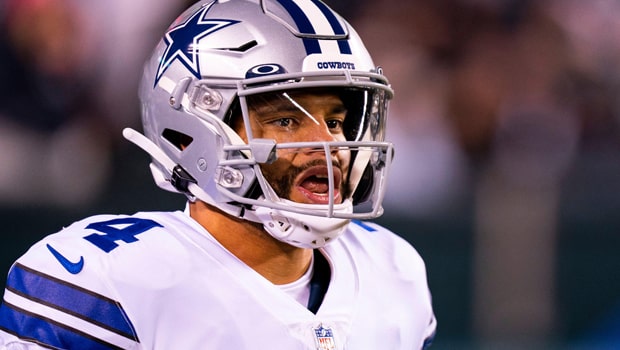 San Francisco finally won road playoff game in Dallas as the 49ers took down the Dallas Cowboys on wild-card weekend, 23-17, in one of the most chaotic finishes in recent memory.
The 49ers raced out to an early 10-0 lead in the first quarter, holding a 23-7 lead entering the fourth quarter. Dallas had a chance to even it up in the final seconds, and even take the lead for a win, but a QB-sneak by Dak Prescott ultimately led to time expiring.
"You know we felt good about that," Cowboys head coach Mike McCarthy said when asked about the QB-sneak. "We talked to our analytics guys, that's the play they recommended so we went with it. Process over results, that's what we always say."
San Francisco's 13-point fourth-quarter lead was put to test after an interception thrown by QB Jimmy Garoppolo.
"I'm still trying to figure out where I'm at," 49ers head coach Kyle Shanahan said. "It's pretty emotional out there. Lots of opportunities to win the game. Those guys (Cowboys) just kept fighting. We made a couple mistakes there at the end. We shouldn't have let it get there."
Dallas continues to look for a post-season win to get them to the NFC Championship round; a drought of 27 years now.
"It hurts. All of us hurting" Dallas RB Ezekiel Elliot said.
McCarthy is now 18-16 in two seasons as the Cowboys head coach, with zero playoff wins.
Scoring and offense always get much of the spotlight, but defensive coordinator DeMeco Ryans of San Francisco deserves some credit for the performance on Sunday afternoon.
"DeMeco [Ryans]'s been unbelievable all year," Shanahan said. "Calling that zero [blitz] at the end on fourth down was really cool too."
The 49ers held the No. 1 scoring offense to just 17 points, despite missing two superstar players for much of the four quarters.
Prescott finished 23-43 with 254 passing yards, 1 TD and 1 INT. Garoppolo finished 16-25 for 172 passing yards, 1 INT and 0 TDs.
San Francisco RB Elijah Mitchell finished with 96 yards on 27 carries for 1 TD. Elliott had 31 yards on 12 carries for Dallas, with Prescott adding 27 yards on 4 carries and 1 TD.
WR Brandon Aiyuk finished with 66 yards on 5 receptions for San Francisco, while Dallas' receiving unit was led by Dalton Schultz's 89 yards on 7 receptions, and Amari Cooper's 64 yards on 6 receptions for 1 TD.
San Francisco will match up with the Green Bay Packers in the divisional round of the post season on Saturday, 22 January, at Lambeau Field.
Leave a comment