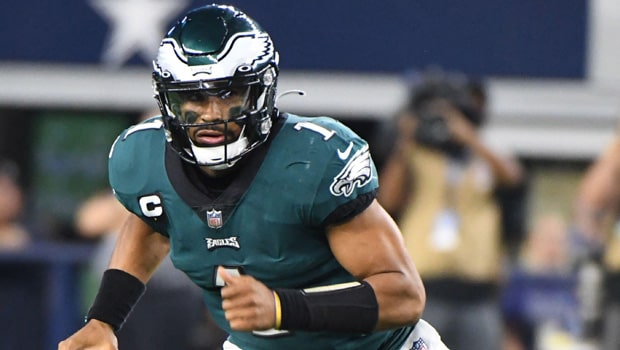 Jalen Hurts, Darius Slay led the way for the Philadelphia Eagles as they absolutely dominated Minnesota to remain undefeated on the season.
To start the season, Hurts was accurate to say the least, using legs as a weapon when needed rather than relying on it as the first option. As a result, the team saw above-average production from the likes of A.J. Brown, DeVonta Smith, Dallas Goedert, Miles Sanders and Boston Scott.
Just in the opening drive alone, Hurts hit five receivers on five-for-five passing.
Hurts is the first player in NFL history to have: 300+ passing yards; 80.0+ completion percentage; and rushing for multiple TDs.
"I hope y'all enjoyed the show," Hurts said after the win.
He is also just the seventh QB in league history to have at least 300 passing yards, 50 rushing yards, 1 passing touchdown, and 2 rushing touchdowns in a game. He did it with 83% completion percentage.
"That's our captain, man. He's proving all the doubters wrong," Brandon Graham, Eagles DE, said on Hurts."
Just in the first half alone, Hurts racked up 151 yards on 8-of-11 passing for a passer rating of 145.1. He also led Philadelphia with 43 yards on four rushes, with the spotlight on his 26-yard touchdown to make it 21-7 with 1:58 remaining.
"Another outstanding performance," Eagles center Jason Kelce said of Hurts. "He threw some unbelievable balls. He made a lot of plays. This was a really great, well-rounded game for him."
By the end of the game, six different Eagles totaled 57 or more yards from scrimmage. Sanders rushed for 80 yards, and Hurts finished with 57 on the ground.
"Big W. Big one," Sanders said as he walked through the tunnel after the game, emphasizing his 96 yards and 1 TD on 13 carries.
It was Sanders' first touchdown since Dec. 27, 2020.
"Big-time performance on a big-time stage" Nick Sirianni, Eagles coach, said.
On the other side, Vikings QB Kirk Cousins finished the game 27 for 46 for 221 yards and three interceptions. His only touchdown was on a 2-yard pass to Irv Smith in the second quarter.
Minnesota will look to get back on track next weekend when they host the Detroit Lions.
Philly will look to build on this momentum when they hit the road to match up against the Washington Commanders and former Eagles QB, Carson Wentz.
Leave a comment