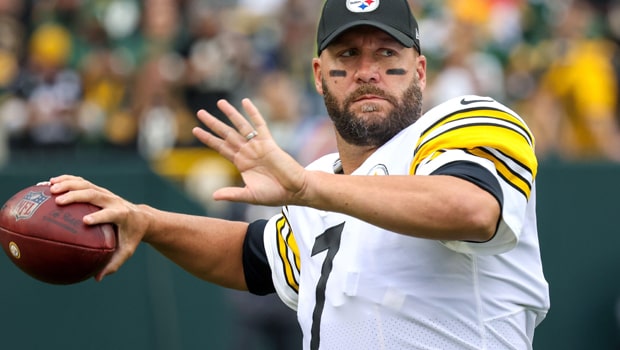 Pittsburgh QB Ben Roethlisberger made his official announcement Thursday morning that he would be retiring from the league after a remarkable 18-year career as one of the best to ever play at his position.
"The journey has been exhilarating, fueled by a spirit of competition," Roethlisberger said. "Yet the time has come to clean out my locker, hang up my cleats and continue to be all I can be to my wife and children. I retire from football a truly grateful man."
Roethlisberger hangs up his jersey with two Super Bowl wins, a Rookie of the Year award, and the record for fifth-most passing yards in league history.
He took over the starting job – replacing an injured Tommy Maddox – back in Week 2 of his rookie season against the Baltimore Ravens.
He led Pittsburgh to a 15-1 regular season record before losing to the New England Patriots in the AFC Championship Game.
"I've been here a long time and it's been a lot of fun," Roethlisberger said after his final game. "God has blessed me. We joke a lot about the Browns and going in there, but it was meant to be that I was going to wear black and gold. Draft day I had a black suit with a gold tie. I'm just so thankful."
He won his first Super Bowl just a year after being drafted 11th overall in 2004; he took down the Seattle Seahawks for title No.1. He would go on to win title No. 2 three years later with a win over the Arizona Cardinals in Super Bowl XLIII.
Despite starting his final season with a 1-3 record, the Steelers snuck into the playoffs. Roethlisberger threw for 3,740 yards, 22 touchdowns and 10 interceptions in his final season.
"It's been an honor and a pleasure. I don't have the words," Steelers coach Mike Tomlin said.
The more-than-likely Hall-of-Famer wrapped up his thoughts through a formal statement.
"I am excited, just because I get to go home," Roethlisberger said. "We've got snow, so the kids are already planning tubing and doing sledding and stuff. So, being a husband and father, you never take a day off. You've got to keep going, and so, as we move from one chapter to the next, it's going to be different, but it's going to be fun, it's going to be a challenge and I'm looking forward to it."
According to reporter Adam Schefter, the 18 seasons that Roethlisberger spent in Pittsburgh are the longest that any quarterback has spent for an entire career with one franchise in the league's history.
"I don't know how to put into words what the game of football has meant to me," Roethlisberger wrapped up.
Leave a comment