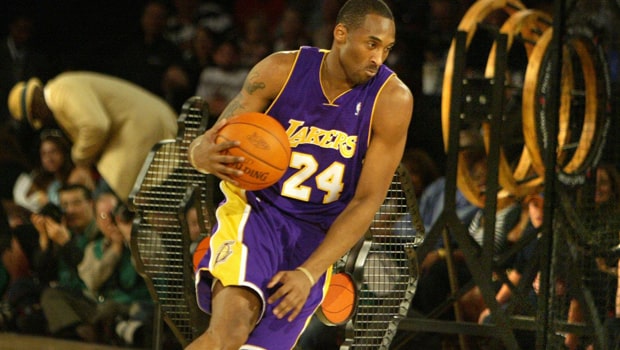 "I've played with IVs before, during and after games. I've played with a broken hand, a sprained ankle, a torn shoulder, a fractured tooth, a severed lip, and a knee the size of a softball. I don't miss 15 games because of a toe injury that everybody knows wasn't that serious in the first place." – Kobe Bryant
On January 21, 2015, Kobe Bryant tore his rotator cuff then tried to play by just shooting with his left hand. He made 1 of 2 lefty jump hooks before being pulled.
Kobe's postgame quotes:
"I feel fine. We make a lot of it, but the reality is I'm doing some pretty phenomenal things in 30 minutes. My body is not that f**** up…I averaged 40 for a whole month with a torn labrum before. I'm not too concerned about it."
"Kobe's grueling cardio workouts gave him an edge throughout his career. He could run all day long. Bryant knew that if someone wants to be a great basketball player, they have to be in great shape."
In his book, The Mamba Mentality: How I Play, Kobe also discussed how everyone talks about his fancy workouts and training sessions and then he explained that he worked relentlessly to make sure that his legs and lungs were always at peak performance.
Kobe has played through pain many times. Right after he hurt his finger on December 11, 2019, trainer Gary Vitti assessed the injury, trying to gauge how bad it was. After an X-ray, Vitti told Bryant that it was fractured.
Bryant's reaction was: "Alright, cool, now get me back out there." Vitti looked at Kobe like he was crazy and this is what happened next:
"I asked him, "Is it going to get better?" He said no. I said, "Exactly, there's nothing we can do about it now and it can't get worse, so tape it up and let's go."
Bryant explained that from that point forward, they would apply a splint, which was like a hard cast at the bottom and top portion of his finger. Then they would wrap it over and over again with a spongy elastic tape.
"The ball would, physically, still hurt when it hit my finger," Kobe explained. "But mentally, I knew I had protection absorbing some of the pain and I could play through the rest. We did that, literally, every time out on the court. Shootaround, practice, game. I mean, every time out."
Kobe Bryant is possibly one of the greatest NBA players of all-time and the greatest Laker ever. Two jersey numbers in the rafters at the STAPLES Center prove it. Kobe was able to take over games in ways that not many players could.
His drive to win at any cost helped him succeed on and off the court. An 18-time NBA All-Star, five-time NBA champion and one-time NBA MVP, Kobe tragically passed away on January 26, 2020. Kobe's game was influenced by Michael Jordan, he never denied it.
Kobe worked like he had no talent, then he played like he believed he was the best player in the world. Prepare with humility; perform with confidence, that's one of the many lessons he taught us.
Leave a comment