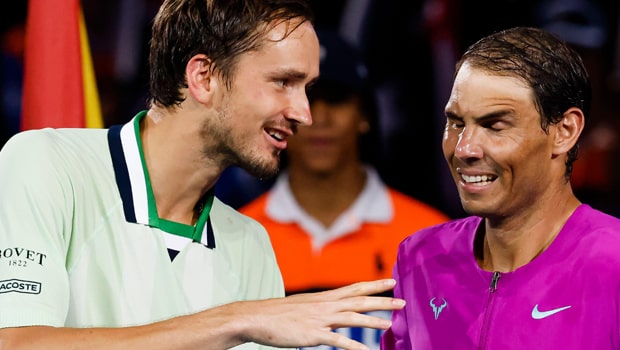 Rafael Nadal won the Australian Open this weekend for his record-setting 21st grand-slam title. He became the first man in the Open era to win the Australian Open final from two sets down.
Nadal clinched the title after beating Daniil Medvedev 2-6, 6-7, 6-4, 6-4, 7-5 in one of the most memorable Australian Opens in recent history.
Medvedev lost in straight sets to Djokovic in last year's Australian Open final.
"It has been one of the most emotional matches in my tennis career and to share the court with you [Medvedev] was an honor," Nadal said immediately after the win during the on-court interview. "I don't even know what to say, guys, for me it's just amazing."
Roger Federer and Novak Djokovic both have 20 grand slams to their name, but the record-holder following the 2022 win is Nadal with 21 grand slam titles to his name.
"I can't thank enough all the guys that are there [in my box], all the team, family, just how hard the last year and half has been and in the low moments you have been there to support me and without you guys none of this would be possible," Nadal added. "Being honest, one and a half months ago I didn't know if I would be back on the tour playing tennis again and today I am here in front of you with the trophy again."
The match's momentum started to turn as Nadal rallied in the second set. Both exchanged holds of serve until reaching a tie break.
"You don't know how much I fought to be here," Nadal said, applauding Medvedev for his efforts. "Thank you so much for the love and support. Without a doubt [it was] one of the most emotional matches in my tennis career and having the huge support I received during the three weeks is going to stay in my heart for the rest of my life, so many, many thanks."
The 5-hour, 24-minute match was the second longest Australian Open ever.
Following the tough loss, Medvedev — from Russia — commented on the lack of international support for him and his country compared to others.
"Before Rafa serves even in the fifth set, there would be somebody, like one guy screaming, 'C'mon, Daniil'," Medvedev said.  "But a thousand people would be like 'Tsss, tsss, tsss'. That sound. It's disappointing. It's disrespectful. I'm not sure, I'm going to want to play tennis."
All in all, the final's post-match interview wrapped up with Medvedev praising Nadal as an "amazing champion."
Leave a comment