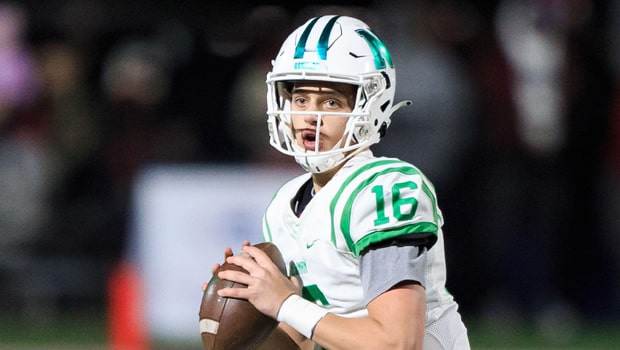 Arch Manning, having long been considered the top player in the 2023 class, took to Twitter to announce his commitment to the University of Texas. He wrote a tweet that read, "Committed to the University of Texas. #HookEm."
Other programs that had been in the mix were rumored to include Alabama, Georgia, LSU, Virginia and Clemson.
Texas coach Steve Sarkisian responded to Manning's announcement with a post on Twitter the read, "All Gas, No Brakes!!!".
"He made this decision on his own. This was his decision to make," Nelson Stewart, Manning's high school coach, said. "I'm just happy he's where he needs to be. He's an 18-year old kid. There was a lot on his shoulders. Took his time and showed a lot of maturity. When it comes to that family, the choice was his."
Manning is a grandson of Archie Manning, and a nephew of Peyton and Eli Manning. He is entering his final senior season at Isidore Newman High School in Louisiana.
Reports on ESPN indicated the Manning family have confidence in Coach Sarkisian's ability to prepare Arch for the NFL — having had two NFL coaching jobs — and in Texas quarterback coach A.J. Milwee's ability to develop him.
Texas currently plays in the Big 12, but there is a chance that Arch Manning plays in the SEC to keep with family tradition. Texas accepted an invitation to join the SEC starting in the the 2025 NCAA Football season.
This will be Texas coach Sarkisian's second season with the team, following a 5-7 record in year 1.
"We're his uncles," Peyton Manning said the day after the announcement. "Try to be there as a resource. Obviously, our names get brought up a lot because we're his uncles. We're really really proud of him for the way he's handled the whole thing."
"That's more Peyton's style kind of the flash and the press conference," Eli Manning said, jokingly. "He had a press conference at a bar his high school year to decide where he was going. I think Arch has been very under the radar. Just keeps things simple. People were kind of expecting a lot but that's not his style. I think he was just ready to be done with it."
Arch will join a quarterback room that includes the likes of: Ohio State transfer Quinn Ewers; Maalik Murphy, an ESPN 300 recruit in the class of 2022; Hudson Card, listed as ESPN's No. 2 quarterback recruit in the class of 2020.
Leave a comment