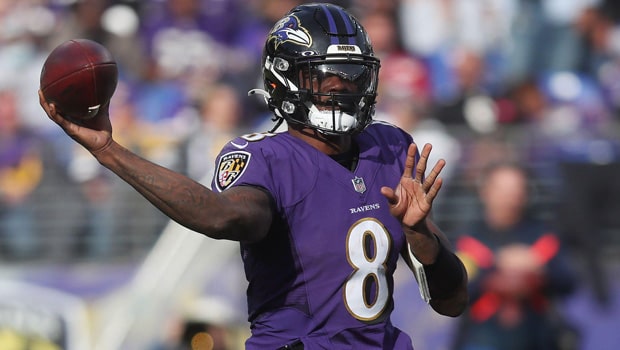 The Miami Dolphins recorded their second win in a row as the defense led the way to a 22-10 win over Lamar Jackson and the visiting Baltimore Ravens. The loss puts Baltimore at 6-3 on the season.
Former NFL MVP, Jackson, threw an interception with less than a minute remaining to seal the fate on Thursday's result.
"I was hot. Like, we weren't scoring any points," Jackson said. "We were putting our defense out there. I feel our defense played lights out, man. We just weren't getting it done on offense, so that's why I was mad. If you were on offense, you would be mad, too."
Simply put, the offense struggled throughout, but was essentially stagnant in the first half. The largest passing play Baltimore had in the first half was just 15 yards.
"Outcoached us, outplayed us," Ravens coach John Harbaugh said. "Bottom line is, this falls squarely on me as the head coach."
The performance and production — or lack thereof — was the worst it has been all season with Baltimore scoring a season-low 10 points on just 304 total yards.
Baltimore's offense recorded just seven first downs on nine possessions in over a 2-quarter period. Baltimore struggled on a short week and the Dolphins' defensive pressure took advantage.
"We were not prepared the way we needed to be prepared," Harbaugh added. "Our schemes weren't up to snuff. And we weren't prepared to execute the way we needed to. So that's it. Not on one player. Our players played their hearts out. We just weren't ready, and that's on me."
According to a stat report from NFL.com, Miami blitzed on 51.1 percent of Jackson's dropbacks, the third-highest rate in Jackson's pro career.
As a result, Jackson had just 111 passing yards heading into the fourth quarter with the score at 6-3.
"Every week. It's ridiculous," Jackson said when asked about the team's slow starts. "I don't understand it either."
What allowed Miami to succeed on defense play after play was Brian Flores choosing to stick to the Cover-0 strategy throughout. Cover-0 results either in a sack, or a big play potentially for the offense; Flores kept utilizing the pressure against a team that was clearly slow to start and fatigued throughout.
"(Cover) Zero is like one of those things where you have to make them pay, you know?" Miami TE Mark Andrews said. "I don't think early on we did that enough. That's one of the things, you make them pay early on, they kind of get out of there."
Miami ultimately had both their QBs in the game at one point or another. Jacoby Brissett finished with 156 yards on 11-of-23 before suffering a knee injury that put Tua Tagovailoa in the game.
Tagovailoa came in to connect on 8-of-13 attempts for 158 yards — enough production to allow a defense that was firing on all cylinders to determine the game's result.
Tagovailoa and Brissett each passed for 150+ yards in the Dolphins' win. Over the last 30 years, only two other teams won a game in which it had multiple 150-yard passers according to Elias Sports Bureau: Buffalo over Miami in 2020, and Indianapolis over Tennessee in 2014.
"We beat a really, really good team," Tagovailoa said. "A tough team to beat. Guys are happy. They are sore. But when you win nothing really hurts."
Miami is back in action next weekend vs the New York Jets for their Week 11 matchup. Baltimore looks to get back on track that same weekend vs the Chicago Bears.
Leave a comment