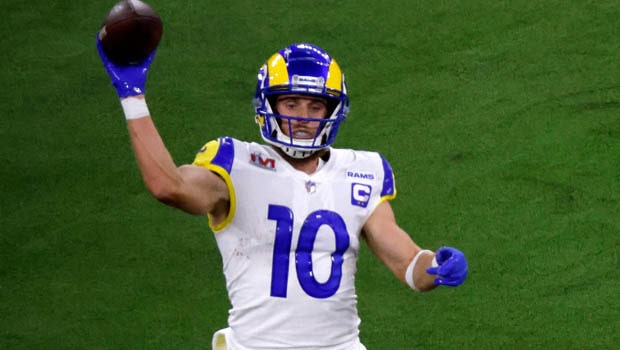 The Los Angeles Rams — led by Cooper Kupp, Aaron Donald and Matthew Stafford — won Super Bowl LVI as they came from behind to defeat the Cincinnati Bengals, 23-20. Kupp was named the Super Bowl LVI MVP with 8 receptions for 92 yards and 2 TDs.
Stafford passed for three touchdowns and led another game-winning drive.
"I can't say enough about the resilience of this team," Rams head coach Sean McVay said. "Guys stepping up when they had to. That's why we're world champs, because our best players stepped up in the most crucial and critical moments."
At 36 years and 20 days old, McVay is now the youngest head coach to ever win the Super Bowl. After just five seasons as an NFL head coach, he has a Super Bowl title, 2 NFC championships, and 3 division titles.
Donald, along with linebacker Von Miller, led a defense that sacked the opposing QB seven times.
"This is just a long time coming for a lot of guys," Stafford said. "This game can teach us so much as people. I get to go to work with people from all walks of life, come together and go for one goal. And for 12 years that goal wasn't reached, and it tore me up inside, but I knew I could keep playing and try to find a way. And the fact we reached that goal […] is so special."
Stafford led 34 fourth-quarter comebacks in his 12 seasons with Detroit. He won the title this season with the Rams on another, game-winning, comeback drive.
Following the win, Donald is in discussion to cement himself as one of the best defensive players of all time. He's a Super Bowl champion, an eight-time Pro Bowler, three-time defensive player of the year and six 10-plus sack seasons.
He finished the game with 3 QB hits, four tackles and 2.0 sacks.
"I'm just living in the moment right now," Donald said after the win, with rumors circulating he may retire at this pinnacle of team success. "I'm going to enjoy this with my teammates and my family for a couple days."
This season's title marked the first in franchise history since the Rams won the Super Bowl in the 1999 season. Cincinnati reached the Super Bowl for the first time since the 1988 season.
"When you look at the way the second half started, a lot of teams would have folded," McVay added. "Resilience was on display in a big way."
Leave a comment