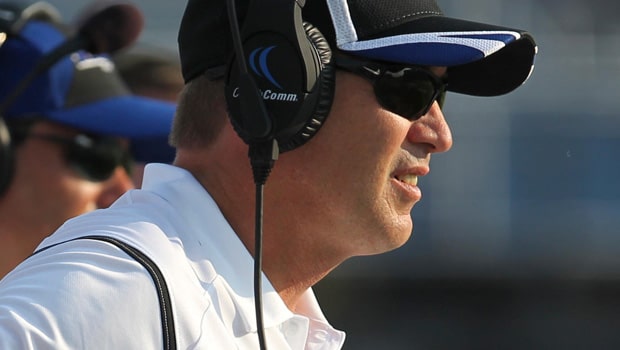 Kansas stunned Texas this weekend as 31-point underdogs to break a 13-year, Big 12 losing streak to record the school's first-ever win at Texas. Texas football has now lost five-straight for the first time since 1956.
"It really says a lot about the young men we have in the locker room," Kansas head coach Lance Leipold said. "They've been starving. It's one win. We have to build on it.."
Kansas also snapped an eight-game losing streak.
Most books had Texas as 31-point favorites. Kansas had also never won in Austin before, going 0-9 on the road at Texas prior to this weekend's matchup.
Texas entered the weekend 79-0 as a favorite of at least 24 points since 1978.
Steve Sarkisian is the first Texas coach to ever start his career 4-6. Texas has given up 55+ points in losses 12 times in program history. Two of those games are under Sarkisian.
"Until we figure that out, that it takes discipline, commitment, toughness and accountability all of the time, we're going to be swimming upstream," Sarkisian said. "My job as the head coach is to get that instilled into our players. It's not about waiting until next year, it's about addressing those things this week so we can play in that manner this Saturday."
Making matters worse for Texas was the injury to Bijan Robinson who left with an injured elbow and could be reportedly out for the year.
"Bijan obviously has an elbow injury," Sarkisian said after the game. "We'll address that moving forward. I don't want to make any predictions here and now."
Texas — to be bowl eligible — will need to get wins over West Virginia and Kansas State before the month is over.
"We'll keep fighting," Sarkisian added. "Texas fight, we believe that. There's not going to be the poor me's. There's not going to be us not working to get better to improve. Just trust that fact that we'll continue to fight and we'll continue to work to play better football."
Kansas QB Jalon Daniels finished with 202 passing yards and three TD, and added a rushing TD on top of that.
Daniels connected with Jared Casey for the final 2-point conversion and the win.
"He's got one of the best hands on the team," Daniels said. "I've seen him make some miraculous catches with just one hand. Walk-on or not, he's going to be a ball player when it counts."
Kanas is back in action next weekend vs TCU, while Texas will look to bounce back vs West Virginia.
Leave a comment