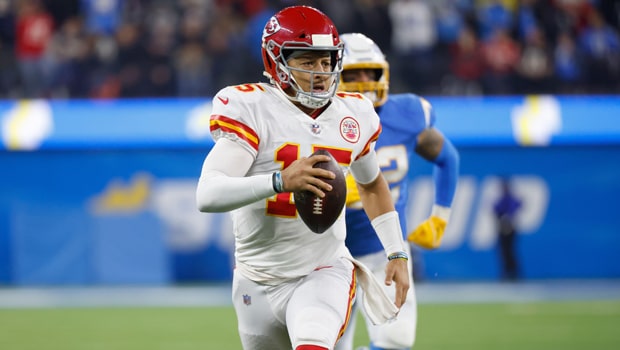 Thursday Night Football this week between the Kansas City Chiefs and Los Angeles Chargers ended with a 34-yard touchdown pass from QB Patrick Mahomes to TE Travis Kelce to seal a 34-28 overtime win.
"I'm sick of all the haters, man," Kelce said, defending some recent criticism of Mahomes. "One five is the real deal."
Kelce finished with a career-high 191 yards for two TDs, helping the Chiefs record their seventh-straight win to improve to 10-4 on the season. Kelce has now reached 1,000 receiving yards for the sixth consecutive season. No other TE has more than 3 consecutive seasons with 1,000-plus receiving yards.
"Everybody is talking about him losing a step, he looked fast to me," Chiefs coach Andy Reid said of Kelce. "His endurance down the stretch for an elder statesman, he's not over the hill, his acceleration is something."
Tyreek Hill and Kelce  are the first WR/TE duo in NFL history to each have at least 10 receptions for 140 yards and a TD in the same game.
"It's very disappointing," Chargers' WR Keenan Allen said. "T.K. was making a play, doing what he does. Great player."
Mahomes finished 31 of 47 for 410 yards and three touchdowns.
"I don't think I've ever been part of a walk-off touchdown or anything like that, so to be in that moment, find him underneath and him making such a dynamic play where, I mean, he cut back, ran by people," Mahomes said.
Chargers QB Justin Herbert passed Dan Marino for the most pass and rushing TDs by any player within the first two seasons of a career.
"The goal is always to score. We needed to put up points, and we got in the end zone, and that was our mission," Herbert said. "We would have loved to have been able to run the clock down and not have any time, but this is the NFL, and you have to get in the end zone."
The Chiefs will not prepare for a Dec. 26 matchup at home against the Pittsburgh Steelers. The Chargers will head to Houston that weekend for a road game against the Texans.
Leave a comment