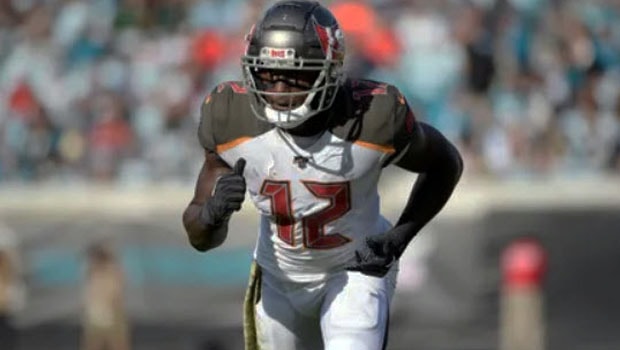 Tom Brady has always worn No. 12 in the NFL. His new teammate, wide receiver Chris Godwin has been wearing that jersey number for the Buccaneers but he offered up his number to Brady.
According to Scott Smith of the Tampa Bay Buccaneers team website, Brady accepted the offer from Goodwin, who will change his jersey number to 14.
Brady won six Super Bowls in 20 years with the Patriots and is considered by many the greatest quarterback to ever play but he will 43 years old when the new NFL season starts and the Patriots did not want to pay him a big salary.
The three-time NFL MVP let the Patriots know that he would not be returning for a 21st season with an official announcement:
"To all my teammates, coaches, executives and staff, Coach Belichick, RKK and the Kraft family and the entire organization. I want to say thank you for the past twenty years of my life and the daily commitment to winning and creating a winning culture built on great values. I am grateful for all that you have taught me – I have learned from everyone. You all have allowed me to maximize my potential and that is all a player can ever hope for.
Everything we have accomplished brings me great joy and the lessons I have learned will carry on with me forever. I couldn't be the man I am today without the relationships you have allowed me to build with you. I have benefited from all you have given me. I cherished every opportunity I had to be a part of our team, and I love you all for that. Our team has always set a great standard in pro sports and I know it will continue to do just that.
 Although my football journey will take place elsewhere, I appreciate everything that we have achieved and am grateful for our incredible team accomplishments. I have been privileged to have had the opportunity to know each and everyone of you, and to have the memories we've created together."
The Patriots selected Brady No. 199 overall in the sixth round of the 2000 NFL Draft. He has completed 6,377 of 9,988 passes for 74,571 yards, 541 touchdowns and 179 interceptions in 285 games.
Tampa Bay has a good number of weapons in the passing game, including Godwin, fellow wideout Mike Evans and tight end OJ Howard, who can all thrive with Brady under center.
Leave a comment