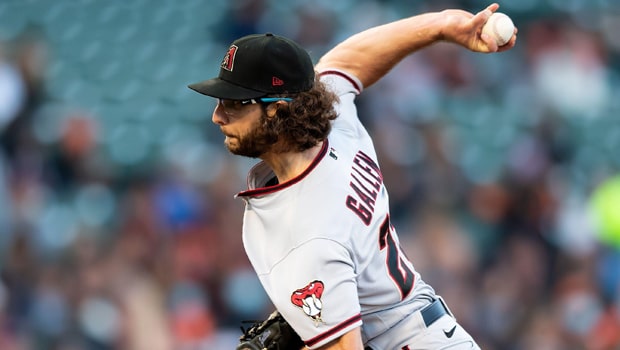 The Arizona Diamondbacks score two runs in the eighth to notch a 3-1 win over the Los Angeles Dodgers on Wednesday. Diamondbacks' Zac Gallen led the way with six scoreless innings-pitched from.
"We've learned to embrace close games, we've learned to embrace execution in critical moments and we're prepared to play games like this all season long," Arizona manager Torey Lovullo said.
The Diamondbacks scored the winning run in the bottom of the eight inning following throwing error by Max Muncy. The win marked Arizona's first series win of the regular season.
"We're riding the fastball up in the top of the zone. It's no mystery, everybody sees that," Lovullo added, speaking of Gallen's hot start. "He's been able to command each edge and he's riding it up. There's a lot of swings and misses with his fastball."
Gallen has a 0.60 ERA through three starts for Arizona this season. That's the lowest in franchise history through three starts, better than Randy Johnson in 2000.
"We're kind of coming into our own," Gallen said. "We've got some talent here and just have to take advantage of some of their mistakes."
Gallen's performance improved the Arizona rotation ERA to 2.55, second-best in MLB. He struck out five batters in his six innings.
"Everything felt pretty good, for the most part," said Gallen. "I had good fastball command, so tried to stick with that."
Julio Urías started for the Dodgers on Wednesday. He allowed a hit — a Nick Ahmed homerun — in six innings-pitched.
"He competed, he made pitches," Roberts said of Urías. "Obviously, he'd like to have that 2-1 fastball in to Ahmed back, but he gave us what we needed."
Los Angeles finished with five hits and two errors — two very crucial ones given the timing.
"Up until this series, I thought we played good baseball, fundamental baseball, catching and throwing it accurately," Dodgers manager Dave Roberts said. "This series, we didn't do a good job of that."
Los Angeles will look to bounce back Thursday against Detroit with lefty Tyler Anderson set to start.
Arizona will hit the road for St. Louis on Thursday, with left-handed pitcher Humberto Castellanos making his third start.
Leave a comment