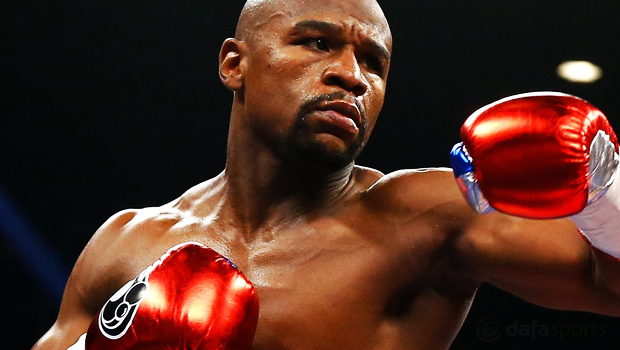 Undefeated

Floyd Mayweather

has confirmed he would return to the ring if the money was right but insists he is happy working as a promoter for now.
The American retired from boxing in September 2015 after beating Andre Berto on points to take his record to an incredible 49-0 with 26 coming via knock-out.
Mayweather's final victory ensured that he could go into retirement having equalled Rocky Marciano's record and has consistently said he is happy to be out of the ring.
Recent speculation has been linking the 39-year-old with an extraordinary cross-code clash against UFC star Conor McGregor as the boxer fuelled talk by tweeting promotional posters.
However, the Irishman is contracted to the UFC and president Dana White ruled out any such bout coming in the near future.
'Money' has spent his time in retirement working as a promoter to bring through some young prospects but has now hinted that he could always be tempted to lace up his gloves again.
The former five-division champion believes he is lucky to have retired before suffering any serious health issues and has always made it clear it would take a nine-figure sum to get him to fight again.
"For the right price, I may come back," he said. "A lot of fighters have to box.
I don't have to box. I don't have the urge to go to the boxing gym. My urge is giving back to the sport now, helping promote the young fighters.
"People have to realise, when I look at my uncle Roger [Mayweather, who has health issues], and even Muhammad Ali, boxing is wear and tear.
"When I look at it, I'm really thankful I was a defensive fighter. I have all my faculties, a sharp mind, and I know who I am."
Leave a comment