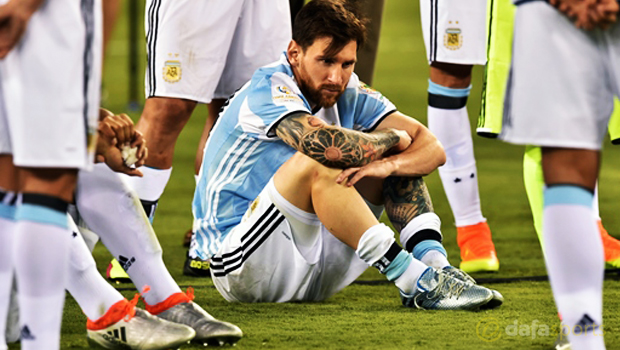 Barcelona star Lionel Messi has announced his retirement from international football following Argentina's second successive Copa America final loss to Chile.
The 29-year-old was unsurprisingly one of the stars of the tournament hosted in the USA and helped his nation to their second successive final.
Messi, who has 113 caps for Argentina, finished as the second-highest scorer in the States, netting five times en route to the final, but could not help them to overcome an aggressive and defensively solid Chile, who won on penalties.
Argentina and Messi have now lost four major finals in nine years and the five-time Ballon d'Or winner's only major international honour is Olympic gold at the 2008 Games in Beijing.
The South American side were beaten finalists at the 2014 World Cup, while they have lost in the Copa America final in 2007, 2015 and 2016.
The Barcelona man admitted that he can no longer take the taste of defeat and believes the time is right for him to call time on his international exploits.
"For me, the national team is over," he said. "I've done all I can. It hurts not to be a champion.
"It's been four finals, I tried.It was the thing I wanted the most, but I couldn't get it, so I think it's over.
I think this is best for everyone. First of all for me, then for everyone.
"I think there's a lot of people who want this, who obviously are not satisfied, as we are not satisfied reaching a final and not winning it.
"It's very hard, but the decision is taken. Now I will not try more and there will be no going back."
Messi will now focus on his domestic future with Barcelona who can be backed at 4.00 to win the Champions League outright in 2016-17.
Leave a comment