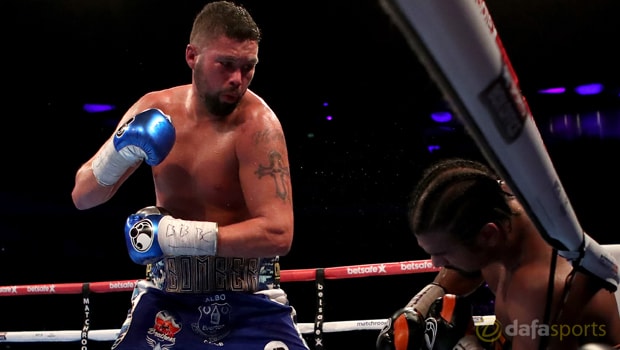 Tony Bellew says retirement 'is an option' following his surprise victory over David Haye in London on Saturday night.
Bellew, 34, was a significant underdog entering the ring after what had been a bitter and fraught lead up to his heavyweight bout with fellow Englishman Haye.
WBC cruiserweight champion Bellew defied the critics as he stopped Haye in the penultimate round of their O2 Arena fight, the latter having been affected by a torn Achilles tendon from midway through the contest.
Bellew now has 29 wins and a draw from 32 fights in his career but the Liverpudlian admits he is unsure how many more times he will go to the well.
One more big payday would be hard to resist says Bellew, but calling it a day on the back what may be career-defining moment is very much an option.
"I don't know how many times more I can put my body and family through this," Bellew told the BBC.
Asked whether the Haye bout would be his last, he added: "It's an option. It's something I'm thinking about."
Promoter Eddie Hearn said on Sunday that representatives of American WBC heavyweight champion Deontay Wilder and WBO champion Joseph Parker of New Zealand had already signalled tentative desires to step into the ring with Bellew next.
Bellew says his next fight will need to be 'something special'. "I have a lot of options.
If people want to come and talk to me. I don't know what's going to happen, but it will have to be something special."
Leave a comment