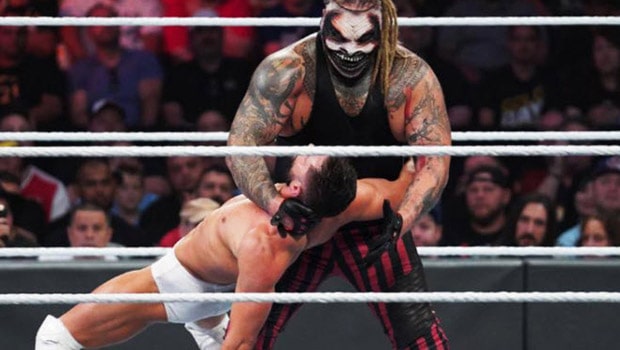 Bray Wyatt's gimmick, The Fiend, quickly became a fan favorite.
In April 2019, the Firefly Fun House debuted on WWE Raw. A series of pre-recorded segments in Mister Rogers' Neighborhood style but with a creepy twist. These segments featured Wyatt interacting with strange puppets and would be the prelude to the emergence of The Fiend.
The Fiend began to torment and exact revenge on all of Wyatt's enemies. The Fiend modus operandi was surprise attacks from the shadows.
The popularity of The Fiend / Wyatt skyrocketed. He quickly became one of the main characters on RAW, won the Universal Championship, and was one of main events of two WrestleManias.
The Fall
If anyone knows how to screw up a good thing, it's WWE.
Randy Orton and The Fiend's feud was RAW's main storyline on the way to WrestleMania 37. In addition to the mix had been Alexa Bliss, who joined the ranks of the Firefly Fun House.
Just before WrestleMania 37, Orton would burn The Fiend alive. This would be the beginning of the end for Wyatt's gimmick.
For several weeks neither The Fiend nor Wyatt appeared on the show. Bliss would be in charge of continuing the feud with Orton and began to take over the gimmick.
The Fiend would return to face Orton at WrestleMania 37 but would be betrayed by Bliss. Fans were upset by the way the story unfolded and how the character of The Fiend was handled.
Since that match, Wyatt has been absent for months, apparently due to mental health problems and depression due to the death of Jon Huber (Luke Harper).
Alexa Bliss continues to use the Firefly Fun House gimmick but with her own twist. In Alexa's Playground, we can see a dark and apparently possessed Alexa while she talks to her devil doll.
The Point of No Return
Fans hated the plot twist they put on the match between The Fiend and Orton. Also, the way Bliss used the concepts, which were once Wyatt's, has not been liked either.
Finally, Wyatt's longstanding absence has made The Fiend lose its shine and he is no longer a relevant element in WWE storylines.
Reinvention
Wyatt is a genius at reinventing himself, and if he intends to return, he must do so with a new concept. The Fiend is dead, and so it should stay that way.
Leave a comment