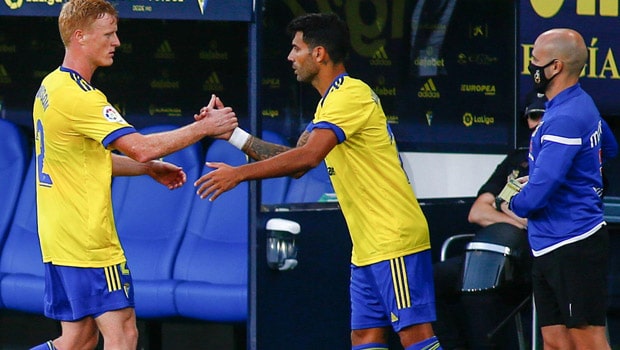 Cadiz midfielder Augusto Fernandez played his last professional game on May 21.
Fernandez, 35, had announced weeks ago his retirement from professional football.
In the last game of the season against Levante, the club paid tribute to the player.
Fernandez was only two seasons in Cadiz, but he won the affection of his teammates during that time.
The player debuted in 2008 in his native Argentina with the River Plate club, where he played 94 games, scored 3 goals, and achieved a league championship.
In 2009 he made his leap to Europe with the French Saint-Etienne. But he would end up returning to Argentina in 2011 to the Velez Sarsfield club, where he stayed for two seasons, achieving 18 goals in 86 games, and won another local championship with this club.
In 2012 the player again tried his luck in Europe, this time in Spanish football where he played for Celta de Vigo for four seasons, and in 2015 Atletico de Madrid signed him. Unfortunately, several injuries did not allow him to have much action, and he couldn't stand out in the club.
In 2018 the player moved to Chinese soccer, where he remained for two seasons.
After his adventure through China, Fernandez arrived at Cadiz CF in 2020 and was a key player for the club to achieve the promotion to the first division.
In the 2020/21 season, Fernandez participated in 12 games and was one of the most regular players in Alvaro Cervera's rotation.
Fernandez planned to retire at the beginning of this year. But the coach and his teammates convinced him to stay until the end of the season.  "In February, I had communicated to the president, the coach and my teammates my intention to retire, but they showed me that my importance in the team went beyond just playing more or less. I reflected on it and decided to postpone that decision with the objective and the personal desire to compete every day and give us that hug of the objective achieved and the work done, " Fernandez said during a press conference.
Leave a comment