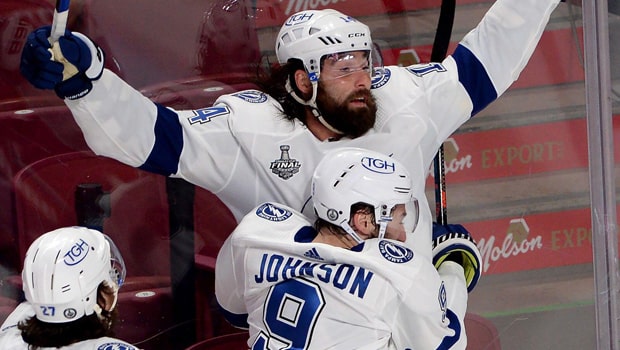 The Tampa Bay Lightning kept hope alive for their third straight Stanley Cup as the two-time defending champions routed Colorado Avalanche 6-2 in Game 3 to pull the series at 2-1. Game 4 is scheduled for Wednesday night in Tampa Bay, FL.
"There's a reason why we're here and there's a reason why we won tonight. There's a reason why this has gone on for the last couple of years," Tampa Bay Lightning coach Jon Cooper said.  "The guys you need to lead you have been doing that, and then everybody falls in line. You watch Stammer's growth and Hedman's growth through the years, and it's probably not a coincidence that winning has followed us."
Lightning finished with six different goal scorers in Monday night's win.
Pat Maroon, Stamkos and Ondrej Palat each had a goal and an assist, with the Lightning scoring four times in the second period.
"I don't know why we started the series the way we did. But any way you slice it, it's 2-1 now," Stamkos said.
A much-needed bounce-back performance following the 7-0 loss in Game 2 on the road.
"A big part, too, is our goaltender," Cooper added. "For him to go through what he went through two nights ago and then perform like he did tonight. Not only that, but to have them score first and then have the team to respond and back him up, I guess that's how you get to the places that we've been."
On the other side, Gabriel Landeskog had two goals for Colorado, with Mikko Rantanen and Cale Maker each with two assists.
"Right now I feel like we're still in the driver's seat up 2-1," Colorado's Nathan MacKinnon said. "We've got to really show up for Game 4, regroup, be better and stay even-keeled."
The Game 3 win for Tampa Bay recorded the first Stanley Cup win since 1919 after a loss of 7 goals or more.
"We knew they were too proud to go away," MacKinnon added. "It's the Stanley Cup Final, we're not expecting to sweep. They obviously didn't hang their head on losing to us in Game 2, and we're not going to tonight."
According to ESPN Stats & Info, the Lightning became the third team in NHL history to score six goals in a Stanley Cup Final after giving up seven goals or more in the previous outing.
Leave a comment