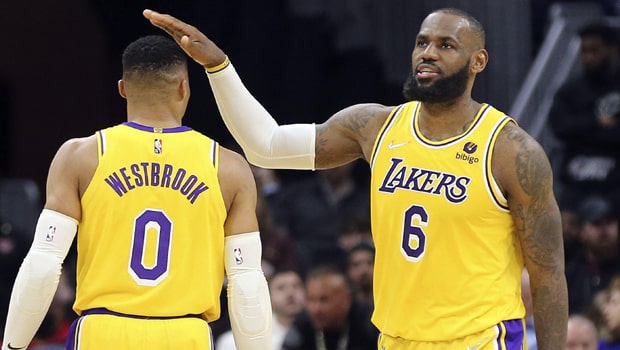 The Los Angeles Lakers have been active in the offseason but they still need to make more moves. We go over three players who could help them right the ship and be more competitive next season.
The Lakers failed to make the play-in tournament last season and their Big 3 of LeBron James, Anthony Davis and Russell Westbrook didn't click when they played together. Seeing them on the court together was actually a rare sight as LeBron and AD in particular, struggled with injuries all season long.
Some questioned their general manager Rob Pelinka because he put together an aging roster with not so many shooters around James. Those with doubts about that and the Westbrook trade were proven right over time, as most of their veterans were out with injuries more often than not or struggled.
This is why the Lakers aimed to get younger, faster, and more athletic for next season. The team's owner Jeanie Buss said they would make more moves before training camp, so here are three players that make sense for them.
We just mentioned that the Lakers want to get younger but they should run it back with Carmelo. Even at his age and in a lesser role, Melo still was one of the few bright spots on the Lakers offense last season, averaging 13.3 points and 4.2 rebounds in 26.0 minutes over 69 games, shooting 37.5 percent from beyond the arc.
Anthony wasn't to blame for the team's struggles, he did his part, providing a spark off the bench and while his defense was suspect, that's not why they signed him last year and he also helped getting his own shots, especially down the stretch.
If I were the Lakers I would look at Jarrett Culver. The Texas Tech product was the sixth pick in the 2019 NBA Draft by the Timberwolves but his career in the league hasn't taken off so far. It's no Culver's fault, the Timberwolves in his first two years and the Grizzlies last season, didn't put him in positions to succeed, as they already filled their spots at his position but Culver is a young, athletic player with great defense. A fresh start can do wonders for him!
Shaquille Harrison also knows a thing or two about having a tough journey in the NBA but he was dominant with the Delaware Blue Coats in the G-League, as he was named Defensive Player of the Year after averaging 1.3 steals and 3.9 defensive rebounds with 17 blocks in 27 games.
Harrison also added 12.7 points, 6.3 assists and 4.6 rebounds. The 28-year-old appeared in parts of five seasons with the Suns, Bulls, Jazz, Nuggets and Nets and he clearly another shot in the NBA. The Lakers could use an elite on-ball defender with intangibles like Alex Caruso.
Leave a comment