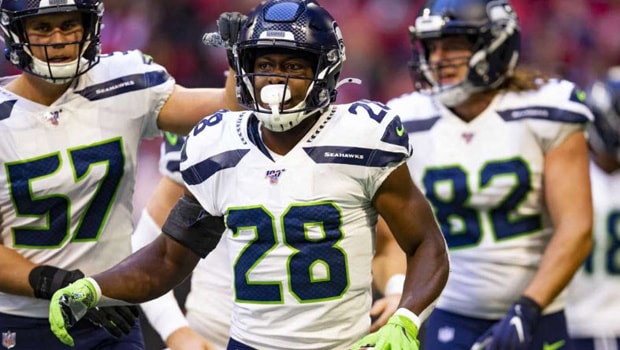 As of this writing, the Seahawks and Eagles both lead their respective divisions but these two teams are heading in opposite directions. There's contrast with their quarterback play. Russell Wilson has played like an MVP for most of the season while Carson Wentz is really struggling right now, with four interceptions in his last three games, giving him 14 already in just 10 games this season.
What the Numbers Say
Time to bring in the quants. Comparing the following projections to the NFL odds will help us make the right choice:
AccuScore: Seahawks 63.4 percent
Equivalent Odds (using an Odds Converter): -173
The Seahawks opened as 6-point favorites and over at AccuScore, they have them as 4.5-point faves. This leaves a 1.5-point gap between the projections and the actual odds.
For support, we turn to USA Today's Jeff Sagarin's projections; he has the Seahawks -4.10 using his Rating numbers, and –6.46 using his eigenvector analysis. That leaves plenty of room to grab some potential betting value with the Eagles +6 at Dafabet.
Dafabet Odds
Head To Head – Match
• Seahawks: 1.42
• Eagles: 2.95
Asian Handicap – Match
• Seahawks: -6 (1.97)
• Eagles: +6 (1.88)
Over / Under – Match
• Over 49.5 (1.89)
• Under 49.5 (1.96)
The Seattle Seahawks are a solid favorite with a 63 percent chance to beat the Philadelphia Eagles. Chris Carson is projected for 64 rushing yards and a 40 percent chance of having at least one rushing touchdown. In the 36 percent of simulations where Philadelphia Eagles wins, Carson Wentz averages 1.98 touchdown passes against 0.4 interceptions, while in losses he has a ratio of 1.47 touchdowns to 0.77 interceptions.
Miles Sanders averages 93 rushing yards and 1.07 rushing touchdowns when the Philadelphia Eagles win and 58 yards and 0.51 touchdowns in losses. The Seattle Seahawks have a 57 percent chance of forcing more turnovers than they commit. Positive turnover margin helps them win 77 percent of the time.
Analyst's Pick
Over 49.5 (1.89).
Three-star (out of four) AccuScore hot trend pick on the Over in this one. Average score in simulations is Seahawks 29.8 to Eagles 25.3.
Make sure to check all other MLB, NFL, NCAA, NHL, NBA and soccer game predictions from AccuScore.
Leave a comment