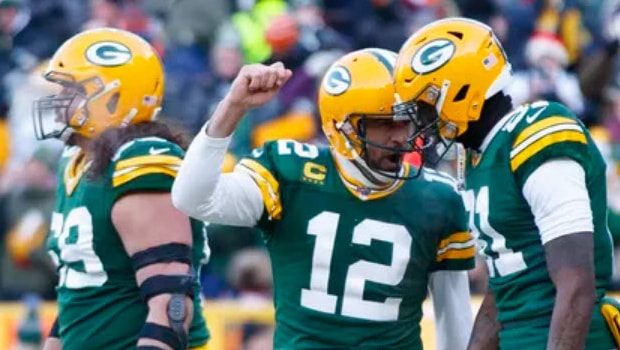 Losers of four games in a row, the reeling Bears look to get back on track when they visit the Packers on Sunday Night Football. Can the Bears compete on the road? Darnell Mooney (33 catches and 10.6 yards per reception) and Kyle Fuller can be X-factors for them.
Fuller ranks fourth in the league, allowing a 60 passer rating and third with just 0.67 yards allowed per snap. The Packers suffered a tough 34-31 road loss against the Colts in overtime last Sunday, leaving too many points on the board while making too many mistakes (four turnovers and seven penalties).
What the Numbers Say
Time to bring in the quants. Comparing the following projections to the NFL odds will help us make the right choice:
AccuScore: Packers 55.2 percent
Equivalent Odds (using an Odds Converter): -123
The Packers opened as 9.5-point favorites and over at AccuScore, they have them as 10.9-point faves. This leaves a 1.4-point gap between the projections and the actual odds.
For support, we turn to USA Today's Jeff Sagarin's projections; he has the Packers -5.07 using his Rating numbers, and –6.44 using his eigenvector analysis. That leaves plenty of room to grab some potential betting value with the Bears +9.5 at Dafabet.
Dafabet Picks
Head To Head – Match
• Packers: 1.23
• Bears: 4.40
Asian Handicap – Match
• Packers: -9.5 (1.95)
• Bears: +9.5 (1.90)
Over / Under – Match
• Over 44 (1.85)
• Under 44 (2.00)
The Green Bay Packers are a heavy favorite winning 79 percent of simulations over the Chicago Bears. Aaron Rodgers is averaging 259 passing yards and 2.2 touchdowns per simulation and Aaron Jones is projected for 86 rushing yards and a 64 percent chance of having at least one rushing touchdown.
In the 21 percent of simulations where Chicago Bears win, Nick Foles averages 1.85 touchdown passes against 0.55 interceptions, while in losses he has a ratio of 1.34 touchdowns to 1.06 interceptions. David Montgomery averages 75 rushing yards and 0.73 rushing touchdowns when the Chicago Bears win and 46 yards and 0.31 touchdowns in losses. The Green Bay Packers have an 82 percent chance of forcing more turnovers than they commit. Positive turnover margin helps them win 86 percent of the time.
Analyst's Pick
Over 44 (1.85).
Four-star (out of four) AccuScore hot trend pick on the Over in this one. Average score in simulations is Bears 19.3 to Packers 30.2.
Make sure to check all other MLB, NFL, NCAA, NHL, NBA and soccer game predictions from AccuScore.
Leave a comment