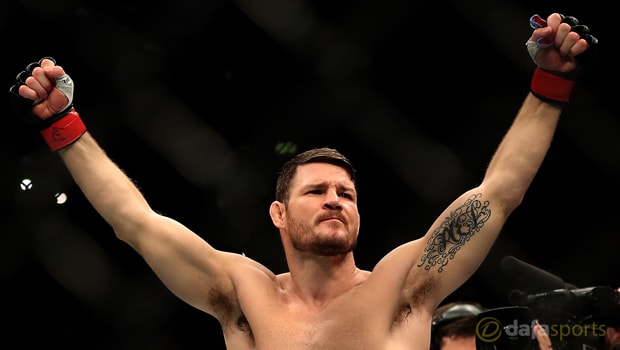 UFC middleweight champion Michael Bisping has told George St-Pierre he will cancel their fight if he continues to push for a date in September.
Bisping has been out of action since undergoing surgery on his leg after coming through a first defence of his strap against Dan Henderson in October.
The 38-year-old was due to fight number one challenger Yoel Romero next but the UFC opted to line him up with a super-fight against three-time welterweight champion St-Pierre.
GSP has not fought for over three years after he considered retiring from the sport and Bisping insists he is ready to take away his title shot if he continues to move for a later date.
The pair were expected to go toe-to-toe in July but Bisping says the French-Canadian is trying to set the clash up for much later in the year.
Bisping said: "So long story short, it looks as if GSP is trying to push for a later date (than July). I heard that he wanted like September or October and that is what the UFC told me as well.
But I am just throwing it out there right now. "If he wants to wait until September or October then he can go find himself another opponent.
Because I call the shots. I am the champion and I am not willing to sit around until September or October. "This fight was discussed in January.
You know a fight camp only takes eight weeks. Or six weeks. So fighting in September or October is ridiculous."
The Count claims he will hand a shot to Romero if discussions don't progress satisfactorily.
He added: "If he's not ready then I guess Yoel Romero gets his title shot! Listen I am not afraid of Yoel Romero.
"If GSP wants to fight then of course, there is a great storyline there. The fight would do great business.
But I am not willing to sit around and he's not calling the shots. I am the champ."
Leave a comment