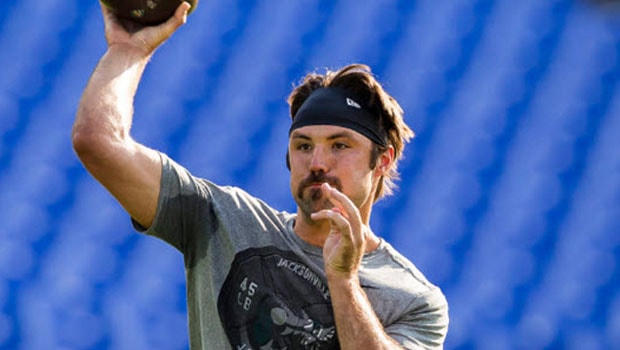 The Jacksonville Jaguars traded veteran quarterback Nick Foles to the Chicago Bears this offseason, formally turning the reins over to second-year signal-caller Gardner Minshew.
The season will not start until a few months but Jaguars head coach Doug Marrone expects an uptick in production from Minshew. The Washington State product is currently getting ready for his first full season as an NFL starting quarterback.
"Obviously, we want to see a big jump," Marrone told the Jaguars' official website. "We're excited for him. It's a great opportunity. He's not going to change the way he is. He's a hard-working kid who has a lot of potential. We've got to make sure everyone around him is doing their job and doing it at a high level."
The Jaguars went 6-6 with Minshew as the starter under center.
"When Phase 1 [of the offseason program] actually opens up, then we'll be able to get our players material that they need," Marrone added. "Obviously, there are going to be some new things that we're going to have to learn.
Gardner works at a very high level, so I'm not concerned about that. He's working extremely hard. He's doing everything he can [right now]. I think we've just got to get him in here and start practicing at some point and see what he can do as far as with him and Jay and the system – and what he likes, what we've got to get him better at, improve at, then really work him on the things he did well – and really fine tune a lot of those things."
The Jaguars went just 6-10 last year, fishing last in the AFC South and they currently have the No. 9 pick in the 2020 NFL Draft. It will be interesting to see if they draft another quarterback to put some pressure on Minshew or if they add a free agent like Jameis Winston, Cam Newton, Andy Dalton or Joe Flacco so they can compete with Minshew for the starting job.
Leave a comment