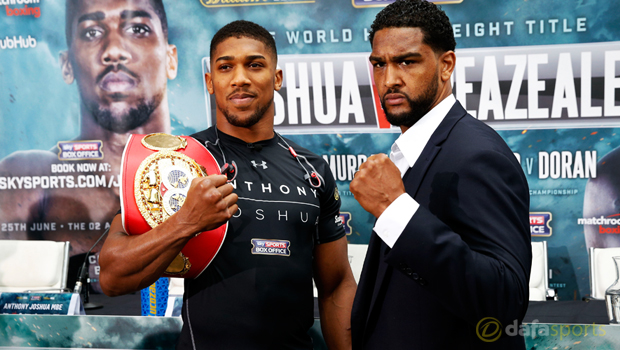 IBF heavyweight champion Anthony Joshua insists he wants to display his new footwork skills during Saturday's fight with Dominic Breazeale.
American Breazeale will travel to London's 02 Arena with an unbeaten record and is adamant he will shock Joshua and take his IBF strap.
Joshua, 3.60 to win in the first round, has won every one of his 16 professional fights via knock-out and his power continues to cause problems for everyone in the division.
Breazeale is confident he can handle Joshua but the Brit insists his game plan this time around will be different.
The 26-year-old has been working hard on his footwork during his recent training camp and he believes it will make a huge difference this weekend and in future fights, with the like of Tyson Fury, Wladimir Klitschko and Deontay Wilder all on his radar.
He told Sky Sports: "I'd love to go in there and just move around the ring and not get hit without throwing any punches.
"We've shown the power but we've never shown footwork. If not, I might go in there with the instinct to outbox him but land a shot that will punish him.
"I practice things in sparring because there's no pressure, but in the ring I just wait for that one chance to punish someone.
I don't really display anything special except for punch power. "Someone bigger will have me having to slip.
You do have to do a bit of moving, rolling, inside work. Hopefully I can display that."
Leave a comment