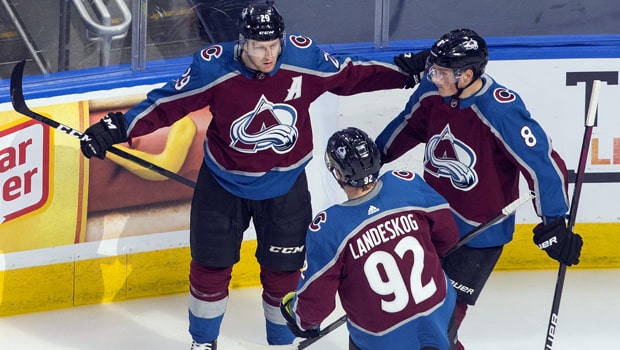 The Colorado Avalanche are now three-for-three when reaching the Stanley Cup Finals as they successfully took down two-time defending champions, Tampa Bay Lightning — four games to two – to win the title.
It's the franchise's first title with the core led by the likes of Nathan MacKinnon, Gabriel Landeskog, Mikko Rantanen and Cale Makar.
Sunday night's win was that much sweeter given Colorado's recent struggles in the post-season. The Avalanche lost in the second round each of the past three seasons.
"We knew the job that we had to do," Colorado Avalanche defenseman Cale Makar said. "But we needed to just talk about staying mentally locked in and not looking too far ahead. It was [Andrew Cogliano] and [Gabriel Landeskog] and [Nathan MacKinnon] speaking and basically just calming the guys down and making sure that regardless of the outcome, just put it all out there and see where the game lies, and that's kind of where our minds were at."
Makar was awarded the Conn Smythe Trophy as the postseason's most valuable player.
"I felt like throughout this whole game, our mentality was just win that period and win the next one, get the next shift and so on, and we were never looking too far ahead to the to the outcome — and we definitely feel like we earned that one," Makar added.
Offensively in Game 6, MacKinnon led the way with a goal and an assist.
"It's hard to describe, honestly," MacKinnon said. "We came from last place together, me, Landy, Mikko, EJ, so it's unbelievable. I'm forever grateful to go through it with these warriors. It was a perfect mix. And we needed a lot of character building over the years to get this done, so it feels great."
Colorado dominated the 2022 postseason with an overall 16-4 record. Most importantly, they were 9-1 on the road this postseason.
"I'm really happy for those guys [who stuck around]," Joe Sakic, current Colorado general manager, said. "This group, it was a great group. They believed in each other all year and really stuck together and never let anything faze them, really. If they had a bad game, they got right up the next day ready to be better."
This past season was the first full season since the Covid-19 pandemic. The 2021-2022 season was the first back to 82 games with a normal playoff format since 2019.
Resiliency pushed the Avalanche to win the title. Time will tell if they can become a dynasty like the Tampa Bay Lightning. At the time of publication, Colorado was listed as 6-1 favorites to win next year's Stanley Cup.
Leave a comment