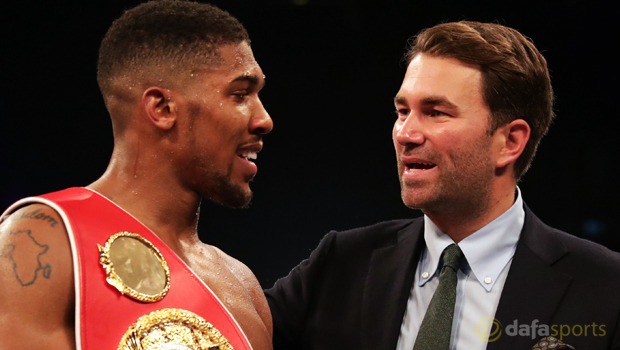 Promoter Eddie Hearn has admitted that a potential clash between Anthony Joshua and Wladimir Klitschko has yet to be confirmed as they wait to find out if the WBA title will be on the line.
Joshua, who currently boasts the IBF heavyweight strap, and Klitschko have agreed to go toe-to-toe at the Manchester Arena on December 10, but it appears the final details have yet to wrapped up.
The Ukrainian is hopeful of bringing the WBA title into contention for the bout in England after it was vacated by Tyson Fury.
Fury was set to defend his heavyweight title against Klitschko prior to pulling out of the fight, and subsequently having his boxing licence suspended by the British Boxing Board of Control pending further investigation into anti-doping and medical issues.
Hearn has confirmed that the Joshua and Klitschko camps have submitted requests for the organisation to sanction the fight.
However, the promoter has admitted that they are considering other options as they wait to hear from the WBA later this week.
Hearn said: "The deal is there but we are awaiting sanctioning from the WBA. "Both teams have written to the WBA to request sanctioning of our fight, but Wladimir wants the WBA belt to be on the line so until that is approved we cannot move forward.
"We expect news in the next few days, but in the meantime I believe both sides will look at alternative options for December 10 while we hope to get the news we need to make the fight happen."
Leave a comment