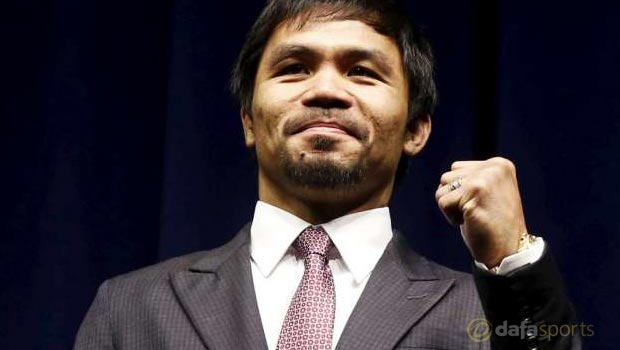 Manny Pacquiao has admitted he is likely to retire from boxing after his next bout and has not ruled out a rematch with Floyd Mayweather Jr.
The Filipino has not fought since he lost to Mayweather on points in May, undergoing surgery on his rotator cuff soon after the much-hyped showdown in Las Vegas.
The eight-weight world champion put his poor performance against the unbeaten American down to the shoulder injury he carried into the fight, which later required surgery, and is now slowly easing himself back into action.
Given the disappointing nature of his last fight, Pacquiao says he would like to have one more bout before concentrating on life away from the ring.
The 36-year-old is eager continue his political career in the Philippines and plans to stand for a seat in the nation's senate in 2016.
When asked whether he would retire after his next fight, Pacquiao said: "I think I'm ready. I've been in boxing for more than 20 years.
"If you are a senator, your focus should only be your job and your family. I will have to give up the other things that require my attention."
Plenty of names have already been mentioned in connection with Pacquiao's last fight, including Mayweather, despite the 38-year-old having retired after his win over Andre Berto last month.
When asked whether he could face Mayweather again, Pacquiao said: "We cannot say if there is a rematch or not. It depends, it depends…"
Amir Khan has made it clear he would like a crack at the Filipino, while American Terence Crawford has also been suggested as a possible opponent.
Leave a comment