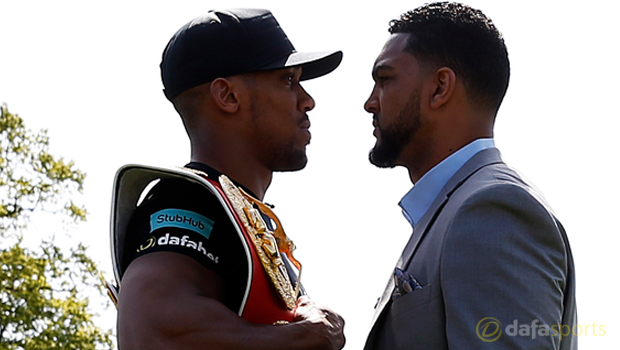 Dominic Breazeale says he is already thinking about dominating the heavyweight division and wants to face Tyson Fury and Deontay Wilder following his clash with Anthony Joshua.
The 30-year-old is set to provide the first challenge to Joshua's IBF heavyweight title when they clash at the O2 in London on June 25.
Breazeale could potentially be the toughest test in the Brit's career as he also boasts an unblemished record in 17 trips to the ring with 15 of those victories coming by KO.
The American is confident he can claim the belt from Joshua and is already planning further ahead as he looks to unify the heavyweight division.
Fury currently boasts the WBA Super and WBO titles as he prepares to defend them in a rematch with Wladimir Klitschko, two weeks after Breazeale fights.
Fellow American Wilder is the WBC holder and 'Trouble' insists he is confident and ready to fight them all after he beats Joshua.
Breazeale said: "After I get done beating Anthony Joshua and taking his IBF title, I want to fight a guy like Deontay Wilder.
I want to fight a guy like Tyson Fury if he still has the belts… or Klitschko.
"Unfortunately, not too long ago a guy like Klitschko lost to a guy like Tyson Fury and I don't think a guy like Tyson Fury deserves, understand or respects the fact that he is a champion.
I think that next time around Klitschko is going to do what he has to do to get his belts back.
"Klitschko has been a very successful guy in professional boxing and for him to lose the way he did was very discouraging but if he didn't think he could beat a guy like Tyson Fury then he wouldn't have taken the rematch so I think he is coming back with a vengeance for sure.
"At the same time a guy like Deontay Wilder with the whole [Alexander] Povetkin situation going down I think eventually that fight is going to happen.
Will it happen soon? No because of the whole drug test. But that's also going to be an explosive fight."
Leave a comment