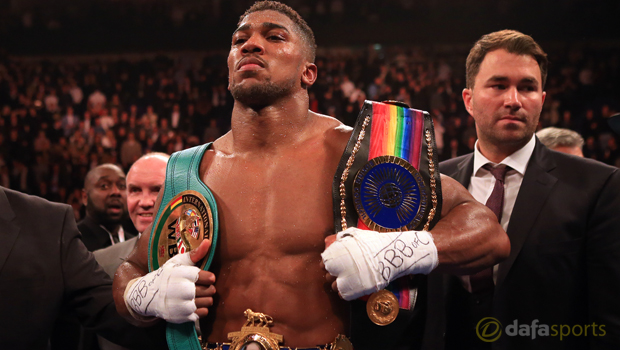 British heavyweight champion Anthony Joshua is the "best on the planet" and can go on to dominate the division for years to come, according to Barry Hearn.
Hearn, who is the chairman of Matchroom and father of Joshua's promoter Eddie, feels the 26-year-old can stand up to anyone in the heavyweight division.
Joshua added the British title to his Commonwealth strap by beating Dillian Whyte in the seventh round at the O2 Arena on Saturday.
Eddie Hearn is currently still pondering over a next potential opponent for the impressive Joshua, who has a perfect record of 15 wins from 15 fights, all coming via knockout.
The Brit is expected to widen his horizons to the European title when he next takes to the ring in 2016 but Barry Hearn believes there is no rush.
Tyson Fury is now the holder of the WBA and WBO heavyweight titles, while American Deontay Wilder boasts the WBC crown and the 67-year-old feels Joshua would find a way past both.
Hearn said: "I think he beats all of them now today, any time you like, but commercially it's not the right time to do the fight.
"This young man is already the very best heavyweight on the planet and it would be interesting if you asked bookmakers to price up Joshua versus Fury – Joshua is favourite; Joshua against Deontay Wilder – Joshua is favourite; Joshua against Klitschko – Joshua is favourite. Bookmakers don't make many mistakes, nor does Barry Hearn.
"This is a 26-year-old man who has a minimum of 10 years if all goes well – if he wants 10 years – at the top of his chosen trade or profession.
"He's going for a level of heavyweight domination that we have not seen for many years."
Leave a comment